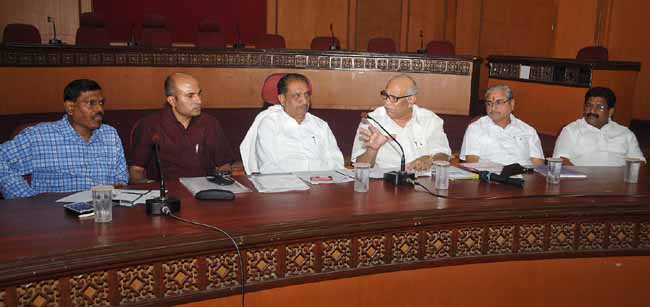 Nagpur News: The proposed Ajni flyover bridge received a major thrust as Railways have agreed to bear 50 per cent of the total Rs 35.50 crore cost for the flyover. The Guardian Minister Shivajirao Moghe, who was presiding over a meeting to review all the delayed and stalled development projects, said that the remaining 50 per cent cost should be borne by the NMC. He directed the concerned officials to prepare a proposal in this connection by calling a meeting within eight days.
The crucial meeting, called specifically on the request of Nagpur MP Vilas Muttemwar, was held at Bachat Bhavan in Nagpur. The meeting reviewed various citizen-oriented delayed and stalled developments works. Those who attended the meeting include Vilas Muttemwar himself, MLA Dinanath Padole, Opposition Leader in NMC Vikas Thakre, NIT Chairman Pravin Darade, Additional Commissioner of NMC Hemant Pawar, Deputy Collector Nishikant Suke, Resident Deputy Collector Pravin Mahajan, District Planning Officer Y V Kumbhare and Congress Corporators.
Another important development project – a six-lane road beginning from Vanjari Nagar water tank to connecting directly to Wardha Road would certainly smoothen road traffic, said the confident dignitaries present at the meeting. The NIT has prepared a Rs 262 crore proposal in this connection, the meeting was informed.
The all-important meeting comprehensively discussed following issues:
Distribution of ID cards to powerloom owners and resolving of prolonged problems of BPL card holders. Making available Rs 15,000 each for powerloom upgradation expenses and for the remaining Rs 15,000, directives to Managers of nationalized lead banks, lands for  construction 25,000 houses under BSUP and Rajiv Gandhi Housing Scheme in Nagpur, modernization of Mahatma Fuley Vegetable Market as the Maharashtra Government has conferred the Market with "Upbazaar" status, speedy completion of beautification work of Baba Tajuddin Dargah for which the Government has provided funds, world standard memorial at Xero Mile Stone Pillar, resolving of ever growing Citizens' problems regarding Scanco's poor state of affairs, solution to Mominpura-based Muslim Library lease proposal, reconstruction of dilapidated bridge over Nag Nadi in the Ward No. 2 in the North Nagpur and resolving of various problems faced by Government Medical College and Hospital and Indira Gandhi (Mayo) Hospital and utilization of open lands.
The officials of MHADA, NIT, NMC and others were present at the meeting.