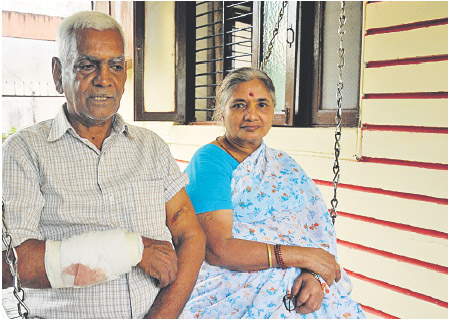 Nagpur News : Fighting against armed thieves, a retired medical officer Sudhakar Joshi and his wife Pramila, both in seventies, suffered severe stab injuries at their Sahkar Nagar residence, Khamla road.
The shocking incident took place on Monday afternoon while it was raining heavily and the elderly couple were as usual, alone at home. Police informed that the couple's both daughters are married and stays in city.
Around 4 pm, Joshi was waiting near the main gate for his elder daughter who was supposed to come when two youths on bike asked him for an address. They drove ahead when Joshi failed to guide them. The youths came back after ten minutes with their faces covered with scarf.
The couple was watching television in the front room when the duo opened the main gate and walked into house. Before Joshi could ask them, the youths gagged each of them and threatened at knife point.
"Joshi courageously fought with the youths when one of them was trying to rob Pramila's gold chain. He was stabbed on hands, legs and stomach while Pramila suffered injuries on hands," told police.
The thieves even locked the couple at home before fleeing. Though the senior citizens were bleeding profusely, Pramila managed to call her elder daughter and neighbours who immediately rushed them to nearby private hospital.
Police said that both the injured are stated to be out of danger. Sonegaon police has registered the loss of gold chain worth Rs 25,000. Search for thieves in underway.