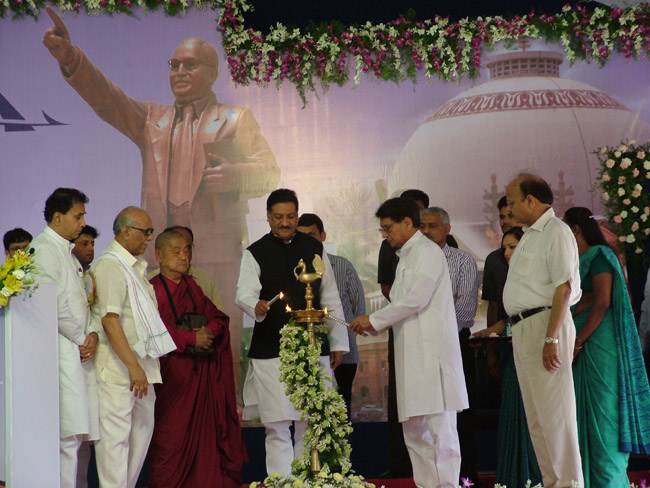 Nagpur News: Thousands of followers of Dr B.R. Ambedkar paid their respect to the architect of the Indian constitution on his 122nd birth anniversary here on Sunday.
Over 50,000 people visited Chaityabhoomi, Amdedkar's memorial (where he was cremated in 1956) near Shivaji Park in central Mumbai, during the day to pay homage to the Dalit icon.
Republican Party of India (RPI) chief Ramdas Athawale also visited the memorial near Dadar railway station and offered his respects.
Several cultural programmes, rallies and blood donation camps were organised across the state on the occasion.
Ambedkar followers gathered in large numbers at Nagpur's Dikshabhoomi to pay respects to their leader.
Maharashtra Chief Minister Prithiviraj Chavan on Sunday paid tributes to Dr Babasaheb Ambedkar on the occasion of his 122nd birth anniversary.
Chavan, who presided over a function to unveil a life size statue of Dr Ambedkar with Union Civil Aviation Minister Ajit Singh at the airport here, later paid tributes at Deekshabhoomi, where the dalit leader had embraced Buddhism in 1956.
A large number of organisations also paid tributes to Dr Ambedkar at Deekshabhoomi and at Samvidhan Chowk on busy Nagpur-Jabalpur road today.
Followers also gathered at the Ambedkar Udhyan in Kalyan in Thane district to garland Ambedkar's statue and lit candles.

Popularly also known as Babasaheb, Ambedkar was born in a poor family in a caste that is considered untouchable. Growing up, he campaigned against social discrimination, the system of Chaturvarna – the categorisation of Hindu society and the caste system.
He embraced Buddhism and is also credited with providing a spark for the transformation of hundreds of thousands of Dalits to Buddhism. Ambedkar was posthumously awarded the Bharat Ratna, India's highest civilian award in 1990.
He was one of the first Dalit in India to obtain college education.