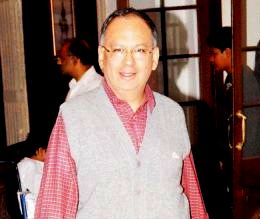 Nagpur Theatre News : With the advent of a silent Revolution gaining speed in Nagpur – the Revolution of "change" in various aspects like Industries, Infrastructure and Society, another noticeable and much appreciated change is Nagpur"s Acceptance and Fascination towards "Art" : Art of all kinds.
This fascination has inspired us to write more about the "Art Culture" of Nagpur and let our readers gain a better perspective on all that brings the Magic out and about, once the curtain is raised.
This article is devoted to the two major "English Theatre" groups of Nagpur, which are working incessantly towards popularising Drama & Theatre among Nagpurians.
1. Stagecraft Theatre :
StageCraft
Started in 2003, Stagecraft is the brainchild of actor-writer-director-producer Vikash Khurana and also, the first English Theatre Group of Nagpur.
This motley group now boasts of a conglomeration of students, professional men and women who come from various age groups and walks of life but share a common passion for Theatrics.
About the Founder
Vikash Khurana has been doing theatre for the last 30 years. He participated in a theatre workshop at the Royal Academy of Dramatic Arts (RADA), London and has trained under eminent personalities like Satyadev Dubey, Amrish Puri and Naseeruddin Shah.
Vikash has acted in and directed as many as 60 plays, with a whopping 200 stage performances in Nagpur and Mumbai; at prominent venues such as the NCPA and Prithvi Theatre.
He conducts regular Theatre Workshops and acting courses for School and College-going students.
The storylines vary from rib-tickling comedies to edge-of-the-seat suspense and from high voltage dramas to costume extravaganzas, classics and larger than life musicals.
The Views of the Founder
From school and college students to educated homemakers and service professionals, the audience for English dramas is growing in Nagpur.
The current scene is different from the situation 4-5 years ago, when it was difficult to draw people to watch a play in a language other than Hindi or Marathi and the change augurs well for the theatre industry.
According to Vikas Khurana, who is popularly known as the "theatre guru" of Nagpur, and has founded "Stagecraft", about six plays are produced on an average in a year by his group, with 3-4 shows of a play at a time, running to packed houses.
A disciple of Satyadev Dubey, Om Puri and Naseeruddin Shah, he is primarily responsible for introducing English theatre to Vidarbhaites in 2003 and has worked with the veterans at Prithivi Theatre in Mumbai.
"Central India is essentially a Hindi speaking belt and there are several theatre groups in all major towns and cities but all of them stage plays in regional languages like Marathi, Gujarati and Hindi. But ours is the only English theatre group. The closest English theatre is either in Pune or in Hyderabad,
Previous Productions
Musicals & children"s plays – One upon a time in Bollywood, Alice in Wonderland, Aladdin, Mystery of the Pantomime Cat, Peter Pan
Comedy/Farce – Heads "n" Tales, Singing in the Rain, Rumours, Tall Tales, JK"s Women, Fun on the Run
Thrillers – Death Trap, Rope, Ten Little Indians, The Adventures of Sherlock Holmes
Classics – My Fair Lady, Romeo & Juliet, Macbeth, Rebecca, The Merchant of Venice
For the last 4 years, Stagecraft has been consistently staging 6 plays every year. In this theatrical journey, they have collaborated with schools, colleges, corporate houses and aspire to bring more and more people into the magical realm of Theatre.
A genius at work when it comes to plays.
By Marcelo Azavedo