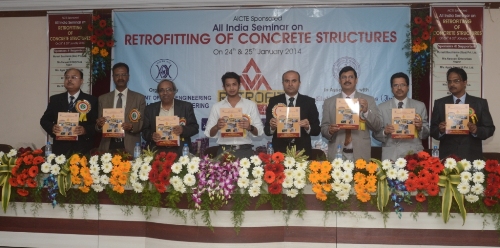 Nagpur News.
AICTE Sponsored All India Seminar on "Retrofitting of Concrete Structures- RETROFIT 2014" is being organised jointly by Department of Civil Engineering, KDK College of Engineering Nagpur and Institution of Engineers (India) Nagpur Local Centre on 24th & 25th January 2014, at KDKCE.
The Inauguration of the Seminar is held at the hands of  Pravin Darade, Chairman, NIT will be Chief Guest. The Guest of Honours were Dr N.P.Rajamane, Head, Centre for Advanced Concrete Structures, Chennai,   Dr R.V.Khsirsagar, Dean Faculty of Engg & Technology RTMNU and Yashraj Mulak, Hon Treasurer BCYRC.
Chief Guest Pravin Darade has emphasized on this Retrofitting of Structure, its utility. Mr. Pravin Darade, a Structural Engineer, understands the importance of acquiring the knowledge in regard to retrofitting and hence instructed NIT to participate more delegates.
Dr.R.V.Kshirsagar spoke on the various aspects and necessity of Retrofitting of concrete.
Dr Rajmane stressed on new Geo polymer concrete which can take on very high concrete strength.
Mr Yashraj Mulak louded the effort of Organising team for wonderful organization of Seminar. This Seminar will be much useful to the society because Infra structural development has taken a mammoth shape in building the Nation and Retrofitting of Structure aptly required to Strengthen the structure, or changing the utility aspect of structure.
Dr D.P.Singh, elaborated about the KDKCE and as a chairman of Seminar louded the organizing team for conduction of seminar.
Prof A.M.Badar, Vice Principal KDKCE & Principal Convener of RETROFIT explained in detail about the Retrofitting of Structures.
Dr Dilip Mase Hon Secretary Institution of Engineers & Convener Retrofit highlighted about Institution of Engineers its Role & functioning.
Dr Valsson Varghese Head of Deptt & Organising Secretary Explained the modalities of Seminar, its Flow of Conduction. Five Technical Sessions with Two Parallel sessions & Five Key note addresses will be presented. More tan Sixty papers will be presented during the seminar.
More than 300 delegates have registered for the seminar. Structural Consultants, Faculties, Students are the delegates.
Key Note addresses will be from Dr N P Rajamane from CACS Chennai, Dr R Jaylaxmi from SRM University Chennai,, Dr R.K.Ingle from VNIT, Er Vivek Naik from Apple Chemie Ltd, and Prof M S Shetty Consultant from Pune.
Prof. M.S.Shetty,  will be chief guest at Valedictory function.
Prominently present for the function were Dr U P Waghe Principal YCCE, Dr R H Parikh Principal BMCT, Dr A C Waghmare Principal UCOE, Er Joshi Chief Engineer BSNL, Er P S. Patankar, Er Sunil Voditel, Er Satish Raipur, Er S. Shirkhedkar, Er M.A. Kawalkar Chairman ICI,
Prof A M Badar, Principal Convener, Dr D.P.Mase Convener, Dr Valsson Varghese, Organising Secretary, N R Dhamge Co organizing Secretary, P S Randive, and Prof. S .R. Satone and other Org Committee members are trying hard to make the program success.