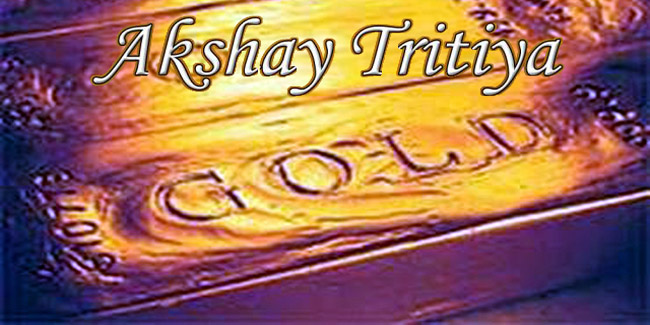 Nagpur News: It may have been enthusiastic sales this Akshay Tritiya and as usual the jewellery stores in Nagpur remained crowded with buyers but the effect of LBT stir clearly dominated the overall marked scenario. The traders strike reportedly led the people shopping to other nearby cities, who preferred buying in advance in order to avoid the last minute rush for their marriage preparations.
Reports claimed that since most of the marriages were scheduled on Akshay Tritiya, the ideal time for jewellery shopping could be few days before D-day. And that was the time when the LBT stir was on and the jewellers kept their shutter down. The fetched loss to the traders, leading to less number of footfalls as expected. However, few traders are admitting to this fact but many others deny their sales had anything to do with shut down against LBT.
Chetan Kandelwal, manager of jewellery showroom Forever said, "Business was good but because of LBT we might have been suffering a backlog from the wedding customers as they preferred to buy the jewellery before-hand because of 'total market band' scenario, and people might have made purchases from Hyderabad, Raipur and Mumbai branches, but still I find the purchases on the day of Akshay Tritiya to be good. And now even if the market was open the customers still called up to confirm our status. This shows that public mindset is incredibly affected by the LBT and 'market bandh. On the basis of the understanding with our customers, they are visiting us and we are also making call to our desirous customers. Due to lower gold rates, the sales are comparatively good, but the market only improved because of Akshay Tritiya known as auspicious for buying yellow metal. Hence people might be buying gold of around 50 grams at least, but they definitely are making purchases."
Bhavesh Seth, CRO, Tribhuvandas Bhimji Zaveri, Dharampeth said that 3-4 occasions in an year like Dhanteras in Diwali, Gudipadwa, where the purchase of gold is considered to be auspicious, Akshay Tritiya being the most important one of them. This tradition of purchasing gold on particular auspicious days holds its roots since ancient times, where it is considered that gold purchases at this time results in growth of wealth in a household, as there is a perception that 'Jitna sona khareedo utna aur sona aata hai'.
He informed, "There is usual growth of 4-5 times in our business around Akshay Tritiya. The gold rates are stable since around last 20 days, and inspite of the strike, our rate of profit and sales have not differed much. Gold is one of the essential commodities, the rates of which fluctuate just like gas or petrol, so its rates ought to increase anyways."
He was of the view that LBT has affected small jewellery shops much, who did not pay octroi regularly, but not us.