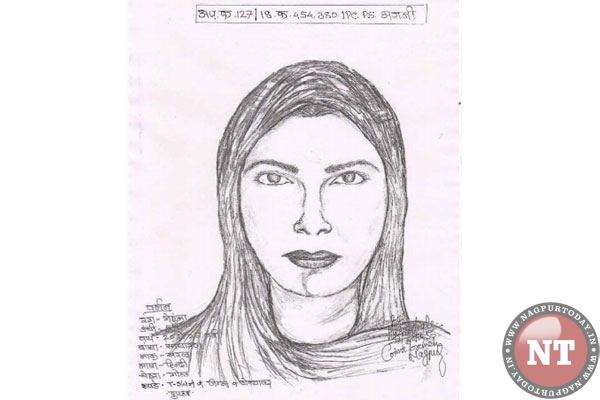 Nagpur: Ajni police have released sketch of a woman involved in burglary of gold ornaments and cash collectively worth Rs 8.15 lakh from a house-cum-maternity hospital of Dr Pushpa Ambhore in Ujwal Society, Narendra Nagar on Sunday, May 27.
The accused woman along with 3-4 male accomplices had stolen the booty when Dr Ambhore and her family had gone out for lunch between 12.30 pm and 3.45 pm on last Sunday. Ajni police had registered a case under Sections 454, 380 of the IPC and launched investigations. Cops said the theft was meticulously planned and executed perfectly indicating involvement of a professional gang. Dr Pushpa Niwas Ambhore (65) had in her complaint told police she runs a hospital named Ambhore Maternity and Nursing Home on ground floor while the family lives on first floor. The house has two entrance gates, one from back side of the building and another directly connected to her chamber on ground floor on the front side. On Sunday at 12.30 pm, she locked her house and went for lunch along with family. She returned around 3.45 pm and found the door ajar and the locks of almirah broken. She raised an alarm and informed police. Staff of Ajni police station rushed to the spot. A forensic team was also called in to lift fingerprints and footprints from the spot. It was suspected that at least four persons, including a woman, were involved in the theft. The gang came with proper planning. When Dr Ambhore left the house at 12.30 pm the thieves might have been waiting nearby and moved into the house. Prior to that, the woman member of the gang phoned Dr Ambore posing as patient and asked her when she will return home. As doctor told her that she would return only after 3 pm, the gang got active and entered from half closed door of the house from doctor's chamber. They broke open locks of almirah and walked away with gold ornaments and Rs 1.5 lakh cash from the house.
During the investigations and based on statements of patients who were undergoing treatment at the hospital who reported seeing about four persons in the area around that time, cops released the sketch of the accused woman involved in the theft. According to police, the accused woman is in the age group of 20-25 years, wheatish complexion, came to hospital wearing blue jeans pant and full-sleeved top, white scarf, black-white shoes. Based on the description, Ajni police have released the sketch of the accused woman and have appealed people to inform them if they spot her or know her on phone number 100 at Control Room or Ajni Police Station 0712-2746555 or mobile phone 7972913994.