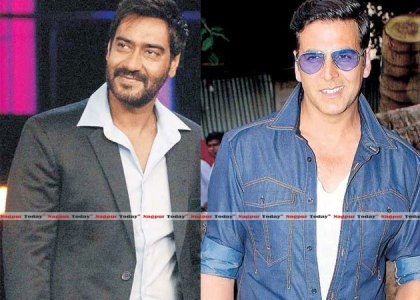 Actor Ajay Devgn, who recently caught attention for his movie's title 'Action Jackson' receiving objection from Hollywood production house Warner Brothers which produced the movie of the same name long back, wanted to avoid another discussion getting hotter. The second issue is of movie's release date which clashes with Akshay Kumar starrer Holiday. It is learnt that Ajay is trying all efforts to avoid the two movies clash at the box office.
Both the films – 'Action Jackson' and 'Holiday' – are set to release on 6 June. "We both want to avoid clash at the box office. Akshay and myself are not involved in this, the producers are sitting and sorting it out. We both would prefer we don't clash," Ajay reportedly said.
Recently, the spat arising out of a clash between Shah Rukh Khan's 'Jab Tak Hai Jaan' and Ajay's 'Son of Sardar' had turned quite bitter.
Asked if he plans to talk to Akshay about the matter, Ajay, 44, said, "No, because we know we both are not involved anywhere in this (release date issue)."
Makers of 'Holiday' claim they had first announced the release date as June 6, while Devgn camp has a different version.
"We had announced 1 May (as release date), that time also they announced the same date. We asked them to move… They couldn't move, so we thought of moving to June 6 and we came to know that they have also moved to the same date. We have no idea what is happening," Ajay said.