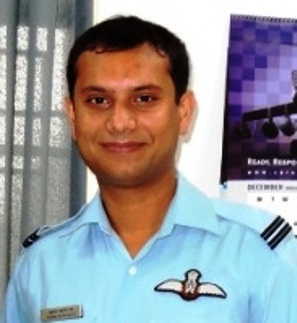 Nagpur Today spoke to young Flight Lieutenant Kunal Rath, posted in Nagpur, about his passion for flying and the advantages of a career in the Air Force. Our Youth Icon has already a mark for himself in the forces, at a very early age. Following are excerpts from the interview:
Nagpur Today– Tell us some basic things about you.
Flight Lt. Rath– I am a native of Orissa. My father was in the air force also. I grew up all over the country. I studied in seven different schools till class seven. So in class eight my dad asked me to settle down and got me admitted in a boarding school, and that was my longest continuous schooling tenure, which was five years.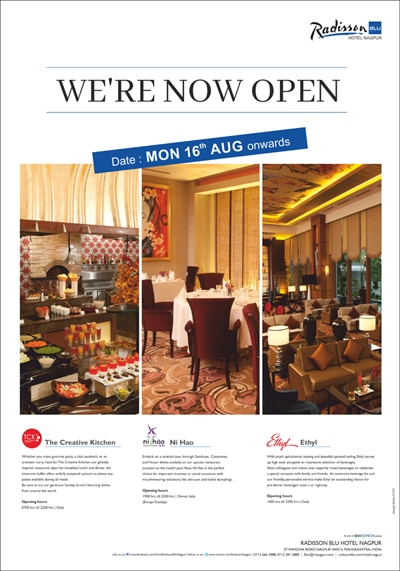 After I passed class 12, I went to NDA (National Defence Academy, Pune) and "Air force By No Choice was My Only Choice"
Nagpur Today– What made you choose Air Force as a career? Why not something else?
Flight Lt. Rath– Well, in my family we don't have any doctors, engineers. I did not have a lot of exposure to other fields. My elder sister has an MBA; I had seen her lifestyle and the way she works which also helped me decide to go with Defence only.  It was especially difficult for me to choose any other career because my family is a family of Defence Officers. I am the eighth defence officer of the third generation in my family.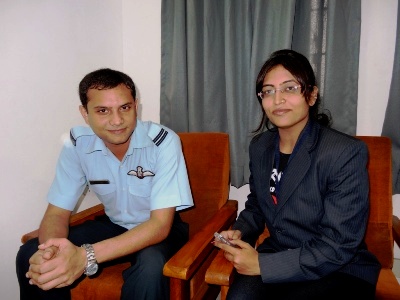 Nagpur Today– Something about your Journey from student life till today?
Flight Lt. Rath– My school was a very reputed school and it was not a trend among students there to join the Defence Forces. I had many diverse options in school such as engineering and even planned to go for some courses abroad, but somehow, destiny had different plans. I was very motivated towards joining Defence forces as it was a family tradition.  From there when I came to NDA, I already had memories of it as a kid as my father was posted there so I actually done my class 1 and 2 in NDA from English NDA School. So it was quite a good experience going to the same place from where I started.
Nagpur Today– Which is the best training institute and why?
Flight Lt. Rath– I don't have basis of comparison as I have been to only one but being modest and non judgmental I would say Air Force Academy, Dhondigarh. Because you see people there are apart from other NDA colleges where we had a basic multi training for three years, I have seen lot of people who come there and with just one year training, you should see the output of officers from there. The training facilities available and the motivation that instructors have really leave its mark upon you.
Nagpur Today– What is the Difference between Defence and Commercial Pilots?
Flight Lt. Rath– The common thing between Defence and commercial pilots is that both belong to Aviation and work by using the sky as a passage. But I must include that the roles we execute are very different and our life is not about what it looks like. As being a pilot is my primary duty but I am an officer first that is Armed Forces personnel. So that's very different from the commercial Pilot.
Nagpur Today– What is the attitude and the mindset required to become a Defence pilot, as against a commercial pilot?
Flight Lt. Rath– Your answer lies within your question. The attitude required to become a commercial pilot is really that one should be interested in aviation and must have a passion to fly planes. And if we are talking about Defence Pilots, you need motivation to serve for your country and take pride in the uniform.
Nagpur Today– Do you fly daily or occasionally?
Flight Lt. Rath– It is on requirement basis but flying is quite heavy, I fly about three to four days a week. It doesn't have to be every single day, but there are occasions when the service requires you to fly back- to- back for around 20 days a month.
Nagpur Today– What is your job tenure?
Flight Lt. Rath– I am on PC, Permanent Commission so I am engaged in the services for 20 years. A posting by itself is between 3-5 years.
Nagpur Today– Which planes do you fly?
Flight Lt. Rath– I am in the transport fleet. Currently I am flying the Agro AirCraft, which is somewhat similar to the commercial planes. We have various roles. One is Personnel moment which is flying military personnel from one place to another. Once you are commissioned there are three fleets of Aircraft. One is Fighter, one is Transport and one is Helicopters and depending on requirement and your aptitude, you get trifurcated into one of these after your training.
Nagpur Today– Have you ever flown fighter planes?
Flight Lt. Rath– No. We are trifurcated after our training. We have basic training in only one type of Aircraft, which is small piston engine aircraft and as per the rule after trifurcation you will always fly only in your fleet. So I'll always fly only Transport fleet.
Nagpur Today– What has you always wanted to do and you haven't got a chance yet?
Flight Lt. Rath– I am very happy with my job. I got more than I expected.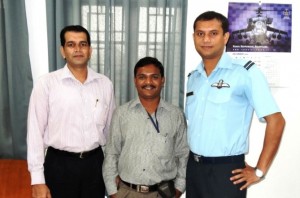 Nagpur Today– Why do you think the glamour of Air force is not attracting today's young generation?
Flight Lt. Rath– I think it is to do with the money which has pumped in the country. As we all know, India has become an economic platform which is really very good. A lot of jobs are coming on the way after doing 12th so the easiest thing to catch out is a lucrative thing which is money and is available now. So there is a wrong notion that Services here doesn't have a highest pay package which is not true because you have to compare quality of life wise. As I told you my sister is a MBA, she is earning well but the quality of life has no comparison at all.
Nagpur Today– Do you think the fitness level of today's generation is enough to be in Air Force Academy.
Flight Lt. Rath– Yeah and if even they are not fit enough, we have academies here to solve all this and help students become officers.
Nagpur Today– Which is your favourite aircraft?
Flight Lt. Rath– My favourite aircraft is not in the country yet. It is a new aircraft which our country has just purchased- the C-17.Its my favourite because I am on that list so I'll be going for the training for those aircrafts in 2013. It is the biggest and the highest tonnage aircraft that our country will have.
Nagpur Today– Have you ever tried to fly commercial planes?
Flight Lt. Rath– No! Commercial flying doesn't appeal to me.
Nagpur Today– Life's Scary Incident?
Flight Lt. Rath– When I was in training, we used to have these night tracks. I remember 16 of us were once taken on a hill and left there. There was a thunder shower and lightning and we were there with no water, no food and we couldn't find anything and felt like we were lost. It was really scary for all of us.
Nagpur Today– Best Experience of your life you would like to share?
Flight Lt. Rath– Yeah I do have some, I don't think that anyone could get such an opportunity , My father was a Para jumper, a sky diver so the moment I got commissioned, I did my Para jumping course and my dad was my instructor. We did three jumps together- I jumped out of the Aircraft with my father and I have a nice big picture of it. It is the most memorable moment of my life.
Nagpur Today– Do you have any message for today's youth- why should they join the Air Force?
Flight Lt. Rath– One thing they should understand is that the training is free, and you get a chance to do everything you will not get in this lifetime. I will just quote a small thing out of the movie "Catch me if you can". There is a con artist in that movie played by Leonardo De Caprio.  He was asked what you want to be when you grow up, he said he wanted to be a fireman,  policeman and so many more things but he couldn't which is why he was happy being a con artist where he got to play different characters in his life.
I think this is one place where the range of activities is very wide .You get so many opportunities to do various kinds of things within your job profile and you will get paid for that.
Nagpur Today– Can you tell us something about your hobbies?
Flight Lt. Rath– I love to play games and that was a sort of motivation for me to join the Air Force. Air Force stations are very well laid out so I get lot of chance to play. There are inter- services, we have our sports control board, and my other hobby is travelling and trekking.  Every three years I get posted to a new place so I really enjoy that as well.
Nagpur Today– If you would not have been a pilot, what would you be?
Flight Lt. Rath– I would like to be an RJ.
Nagpur Today– Do you have a message for Nagpurites?
Flight Lt. Rath– There are a lot of people and students who come and ask about the serving the defence services. But unfortunately the awareness of the services is a little low. There are so many motivated kids who want to join us. I will just request them to put a little effort, come up and talk to us. We will definitely help you all for your good future.
Nagpur Today– What is your New Year's Resolution?
Flight Lt. Rath– (Sadly) I want to Quit Smoking.
Nagpur Today– Is there anything you would like to say on a closing note?
Flight Lt. Rath– Blue skies and Glorying ends. Genuinely I don't know what other job profiles are there because I have never ventured out. But if anyone can sit out with me I can definitely convince them that there is nothing better out there.
– Suhani Vanjani, Ravikant Kamble