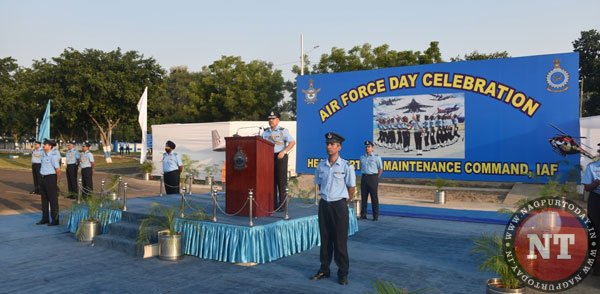 Nagpur: In order to commemorate 86th Air Force Day on 08 Oct 2018, Headquarters Maintenance Command at Nagpur organised a number of events at Vayusena Nagar from 30 Sep 18 to 08 Oct 18. The celebrations were marked with various activities which included Run for Health and Fun on 30 Sep 18, Stellar performance by Sri Lanka Air Force Performing Arts Team on 01 Oct 18, Cleanliness drive undertaken on 02 Oct 18, the birthday of Mahatma Gandhi and Blood donation camp on 05 Oct 18. These events were conducted to instil esprit-de-corps and enhance contribution of Air Warriors towards nation building.
On 08 Oct 18 Air Marshal Hemant Sharma Ati Vishist Seva Medal, Vishist Seva Medal, Air Officer Commanding in Chief, Maintenance Command administered the oath at Vayusena Nagar. All the Air Warriors, Civilians and Non Combatant (Enrolled) of Headquarters Maintenance Command took oath for serving the nation with honesty, integrity and devotion. During the event, Commendations by Chief of the Air Staff and Air Officer Commanding-in-Chief were awarded to the outstanding individuals.
During this year's celebration, the AOC-in-C interacted with all Air Warriors including Defence Civilians employees working at Vayusena Nagar and appreciated their contribution in ensuring operational preparedness and enquired about their well being.