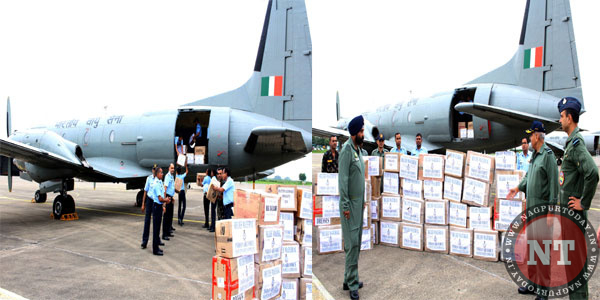 Nagpur: The unprecedented rains and floods has caused a lot of sufferings and misery for the people of Kerala. It has resulted not only in material losses but also precious human lives have been lost. The floods have paralysed normal life of millions of people and lakhs of them have been affected.
Also many of the flood victims are in desperate need of relief supplies. In its bid to lessen the suffering of the people of Kerala and to provide them timely relief Headquarters Maintenance Command, Indian Air Force at Nagpur has taken initiative under the leadership of Air Marshal Hemant Sharma AVSM VSM, Air Officer Commanding-in-Chief.
Civil Administration and various NGOs at Nagpur have donated relief material for the flood affected people. Even citizens of Nagpur have come forward to contribute relief material. The vendors who supplied the utility materials also extended considerable discounts on the purchases made for relief material.
Contributions and donations are being made throughout India to solve the aftermath of the calamity . Nagpur's Agneepankh Foundation, an organization of young sweat and blood , working for the upliftment of underprivileged children had organized a Donation campaign from August 20 to August 22.
The donations were exclusively the most requisite materials that included pharmaceutical products like paracetamols , glucose powders , saline bottles , disposable syringes , thermometers, asthalinpumps. Other donations consisted of clothing like Gowns , Lungis , frocks , shorts, fresh inner wears. Sanitary napkins , diapers , feeding bottles , plates , torches , Bed-sheets, blankets, footwear, soaps, toothpastes , tooth brushes were collected in a large quantity, to name a few.
The collected relief material has been airlifted on 23 Aug 18 from Nagpur by a special aircraft of the Indian Air Force so that it can reach the affected citizens at the earliest.