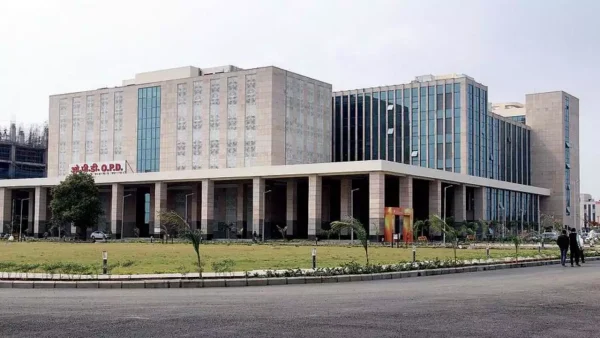 Nagpur: The All India Institute of Medical Sciences (AIIMS) in Nagpur continues to achieve remarkable milestones, garnering attention and accolades. Prime Minister Narendra Modi took to Twitter to extend his congratulations, acknowledging AIIMS Nagpur's latest accomplishment in the healthcare sector: Receiving the prestigious accreditation from the National Board for Hospitals (NABH).
The NABH accreditation is a significant achievement for AIIMS Nagpur, reflecting its unwavering commitment to delivering high-quality healthcare services. The certification is a testament to the institution's adherence to rigorous standards and best practices in patient care, safety, and overall healthcare management.
Among all AIIMS in the country, Nagpur AIIMS became the first to get it. The Prime Minister said, "AIIMS Nagpur has set a benchmark in delivering quality healthcare services." Union Minister of Health and Family Welfare Dr Mansukh Mandaviya tweeted, "Congratulations to the doctors and staff of AIIMS Nagpur for this great feat." NABH accreditation is widely recognised as the gold standard for quality and patient safety in healthcare. It serves as a testament to the organisation's relentless pursuit of excellence across all aspects of medical care, encompassing patient care, patient rights, and infection control, among others.
AIIMS Nagpur's accreditation signifies its dedication to continuous improvement and adherence to the highest quality benchmarks. National Productivity Council (NPC), New Delhi had shortlisted AIIMS Nagpur along with 11 other government medical institutions in India as a demonstration project for capacity building and handholding support to health care facilities in India.
The rigorous accreditation process involved a comprehensive evaluation of AIIMS Nagpur's infrastructure, clinical protocols, and administrative systems. It encompassed meticulous assessments of patient safety, infection control practices, patient care, medical records management, and staff qualifications.
AIIMS Nagpur's successful accreditation demonstrates its unwavering commitment to providing patients with world-class medical services that prioritise their wellbeing and safety. The core committee was constituted for NABH assessment, with various committees formed as per standard operating procedures.
Dr Gugapriya, Dr Meena Mishra, Dr Minakshi Girish, Dr Akash Bang, Dr Shrikrishna BH, Dr Suyog Jaiswal, Dr Neeta Gade, Dr Anita Yadav, Dr Urmila Chauhan, Dr Harshanand Popalwar, Dr Mohan Sundaram, Dr Hemant Bodhankar, SE Nikhil Pandey, Dr Rajni Peter, NS AbinVergese, NOs Vidhi Talwar, Shalu Rathi, Prachi Khaire, Jyoti Latwal, DEO Shivani Ukey took efforts for the preparation for the accreditation process.
Expressing happiness over the development, Medical Superintendent of AIIMS Nagpur, Dr Manish Shrigiriwar said, "It was a mammoth task and thanks to all of our team members with special thanks to Dr M H Rao, Executive Director."