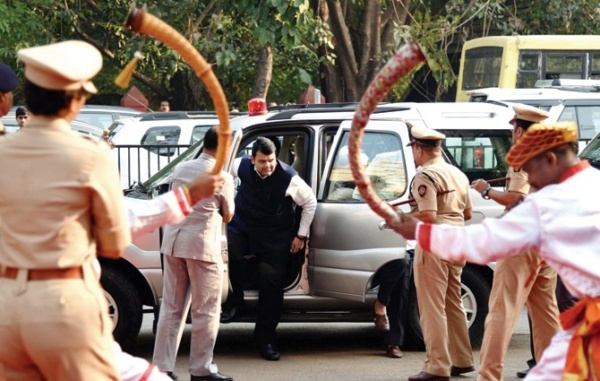 Nagpur: The long-pending cabinet rejig in Maharashtra is likely to happen later this month, ahead of the monsoon session of the state legislature, which begins in Nagpur on July 4.
With little over a year left for the completion of the five-year term of the Devendra Fadnavis government, the Bharatiya Janata Party (BJP) leadership is under pressure to revamp the existing team by induction more cabinet members to fill up vacancies and replace non-performing ministers.
A cabinet expansion, ahead of the Lok Sabha and Assembly elections next year, will give Fadnavis a chance to present a new leadership team in the state and also woo ally Shiv Sena.
After the death of agriculture minister Pandurang Fundkar, the BJP has one vacancy in the cabinet, with the current strength of Fadnavis' council of ministers being 38. Of these, 24 are BJP ministers, 12 are Sena ministers, one minister is from Rashtriya Samaj Paksha and there is peasants' leader Sadabhau Khot.
"There is an opportunity for a cabinet rejig now, with Fundkar's death. It may be the last such chance for the CM to accommodate more faces in the cabinet, to balance regional and community representation ahead of the polls," said a senior BJP minister, on condition of anonymity while talking to a newspaper. "Those who get inducted after this may get too little time in their ministerial roles to have any real impact."
Fadnavis can induct as many as five new ministers from his party, as the maximum strength of the council of ministers in the state can be 43. A senior BJP leader, however, said the CM would prefer to induct three to four new faces in the cabinet and drop some existing non-performing ministers, as he is not keen on a "jumbo cabinet".
The Sena may also get better portfolios in the reshuffle as the BJP is keen to keep Uddhav Thackeray's party on its side ahead of the elections. A vacancy could open up from the Sena quota if public health minister Deepak Sawant, who did not get a re-nomination for the Mumbai graduate constituency for the legislative council polls, resigns.
The minister said a rejig was widely expected in November last year, but had to be held back after Sena opposed induction of former Congress leader Narayan Rane in the Fadnavis cabinet. The CM had last expanded his cabinet in 2016, when he had inducted 10 more ministers, including six from BJP and four from Sena.
Housing minister Prakash Mehta may lose his portfolio after the controversy over a slum rehabilitation project in Tardeo, or may even get dropped from the cabinet. The other ministers who may get the boot are social justice minister Rajkumar Badole, water supply and sanitation minister Babanrao Lonikar, minister of state for tribal development Ambarish Atram.
Some of the BJP leaders, who are being considered for a ministerial role, include the party's city unit chief Ashish Shelar, Nashik legislator Devyani Farande, Sangli legislator Shivajirao Naik, Amravati legislator Anil Bonde.
"Maratha and Other Backward Class (OBC) representation will be given an emphasis while inducting new ministers. Regional representation will also have to be balanced out," said a senior BJP leader.