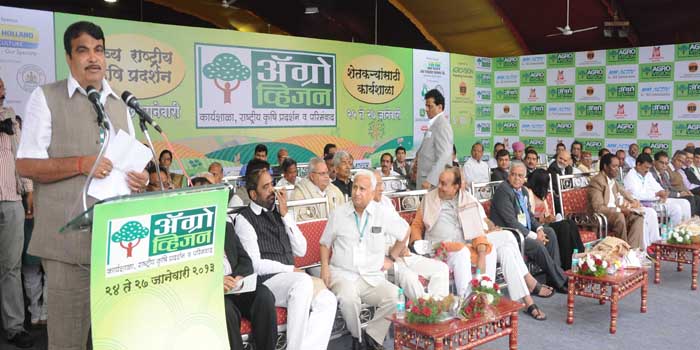 Nagpur News : Central India's biggest agriculture exhibition clubbed with series of workshops packed in an event Agro Vision 2013 opens to the grand response on Thursday at Reshimbagh ground in Nagpur.
BJP's ex-Chief Nitin Gadkari and Chief Coordinator of Agro Vision 2013 who was in Nagpur on Thursday presided over the inaugural ceremony of the event. Agriculture Minister of Rwanda Dr. Agnes Kalibata, Maharashtra Agriculture Minister  Radhakrishna Vikhe Patil and Chhattisgarh Agriculture Minister Chandrashekhar Shahu were the chief guests on the occasion.
Lokmat Group President Vijay Darda, President of Varna Group Vinay Kore, President of Lok Mangal Group Subhash Deshmukh, former Maharashtra minister Ranjit Deshmukh and Dr CD Mayee, Vice-President Agro Vision Advisory Committee were the special guests at the launch ceremony.
The workshops were organized all day long and would continue till the event that ends on 27th January. 60 experts have been roped in to provide essential guidance and detailed information to the participating farmers on various topics.
This apart Girish Gandhi requested the presence of the guests while Ravi Boratkar and Ramesh Mankar convened the programme.
Devendra Parekh, President, Vidarbha Economic Development is the organizing secretary.
Among the advisory committee members present on the occasion included Dr. M S Swaminathan, president, Dr CD Mayee, MK Anna Patil, Rajendra Barwale, Dr Raviprakash Dani, Professor AK Mishra, Dr KP Gore, Dr PG Adsule, Dr Keshava Kranthi, Dr VJ Shivankar, Dr Vijay Kashikar, Dr VT Jadhav, Dr YB Ramakrishna, Diwakar Rao, Dr SB Kalantri and Dr Vivek Damle.
The members of the organizing committee prominently present on the occasion were Nagpur MP Vilas Muttemwar, Datta Meghe, Hansraj Ahir, Sanjay Dhotre, Ranjit Deshmukh, Ramesh Bang, Anees Ahmad, Jogendra Kawade, Ashok Dhawad, Wamarao Chatap, Suresh Waghmare, Shishupal Patle, Ramdas Tadas, Arun Adsad, Sulekhatai Kumbhare, Devendra Fadnavis, Deenanath Padole, Suresh Deshmukh, Nanabhau Patole, Ashish Jaiswal, Sunil Kedar, Dr. Khushal Bopche, Chandrashekhar Bawankule, Dadarao Keche, Sudhir Parwe, Nanabhau Shyampure, Vijay Ghodmare, Anil Sole, Sandeep Jadhav, Pappu Jaiswal, Adv. Basant Inchalwar, Netram Katre, Saroj Kashikar, Vijay Jawandhiya, Rajkumar Badole, Dadasaheb Tichkule, Atul Deshkar, Ashok Mankar, Hemant Patle, Vikas Thakre, Sunita Gawande, Mrs. Wakodkar, Pramod Manmode, Ravindra Durugkar, Ram Newale, Sadanand Nimkar, Prakash Gajbhiye, Umakant Dhenge, Dr. Milind Mane, Archana Dehankar, Ajay Patil, Nitin Rathi, Mahesh Bamnote, Sunil Raut, Deepak Gajbhiye, Ravi Gadge, Suresh Borate, Bandu Umarkar, Ashok Dhote, Chandrashekhar Kolhe, Sandeep Joshi, Suresh Kumre, Rajesh Jivtode, Deepak Kalmegh, Babarao Ulemale, Shirish Gode, Rajeev Potdar, Jaikumar Verma, Sudheer Dive, Dr. Prateebha Mandavkar, Arvind Gajbhiye, Anandrat Raut, Sandeep Gavai, Diwakar Gher, Dileep Choudhary, Milind Bhende, Vijay Mude, Vinod Agrawal, Praveen Datke, Babarao Titarmare, Anil Medhe, Keshavrao Mankar, Kishan Nagdeve, Ashokrao Nete, Pramod Pipre, Dr. Dudwade, Sau. Nivedita Choudhary, Suresh Lunge, Dr Kute, Rajendra Dange, Devendra Kherde, Tejram Thorat, Nanabhau Mohad, Ramrao Kaurti, Marotrao Khawse and Sandhyatai Gotmare.
About 50,000 farmers participated in Agro Vision 2012.  Gadkari has exuded confidence of similar response this year too.
More than 150 companies from around the nation would be displaying their products and services in Agro Vision 2013. The propositions mainly include tractor, agricultural equipments, seeds, fertilizers, pumps and various irrigation methodologies. The farmers would get to see the most advanced and upgraded equipments that have revolutionized agriculture sector.
The event is jointly organized by Agrovision Organising Committee, Vidarbha Economic Development Council, MM Activ Sci-Tech Communications, Purti Power and Sugar Ltd.  The Event Sponsor is New Holland. Jain Irrigation Systems Ltd. and UPL Group of Companies are Platinum Sponsors, while  Gold sponsers include Escorts, Force, John Deere, Gasparvo and Ankur Seeds.
The technicalities involved in production of various vegetables and crops would be rendered in detail at Agro Vision 2013. Almost every topic regarding the budget, production cycle, various government schemes, agriculture industries and job prospects in agriculture would be discussed at stretch.
A special workshop would also be conducted to guide 11th and 12th students studying agriculture. The topic of the workshop would be "Various Opportunities in Agriculture Industry". Gadkari has appealed to the education institutions to volunteer their students at these workshops.