After taking signature of Gadkari on "Oath Letter", Baba Ramdev starts BJP campaign from Nagpur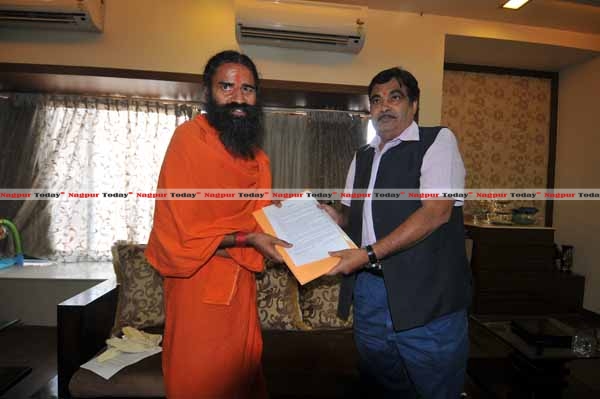 Nagpur Today: Yog Guru Baba Ramdev was in the city on sunday. He was here for the door to door  campaign for Bhartiya Janta Party (BJP) as well as National Democratic Alliance (NDA) for the upcoming lok sabha election. Baba Ramdev once again came out in support of the Bharatiya Janata Party (BJP) ahead of 2014 General Elections, saying that Narendra Modi's wave is prevalent in the country
Ramdev, who has been spearheading a nationwide campaign against black money and corruption, had said the NDA will have to "swear" that they will support him on the issue. He was here, also to get the signature of BJP Leader Nitin Gadkari on the "oath letter" saying that Gadkari  will support him on 9 issues. Ramdev Baba landed in Nagpur in morning and went to Gadkari wada  for the signature on the oath letter. After the signature he along with Nitin Gadkari did campaigning for the party.
Later the press conference of Baba Ramdev was organized in Tilak Patrakar Bhawan. While talking to the press  Baba Ramdev said that the need of the hour is to bring good people in governance. He added that congress party has been looting the country for the past 65 years. While talking about the newly formed Aam Aadmi Party Ramdev said that AAP is total failure and this party is a branch of Congress itself.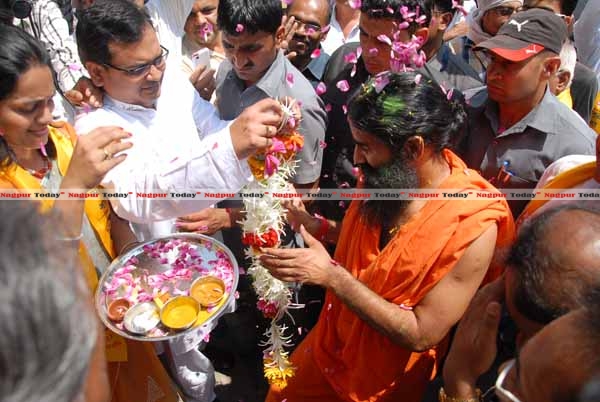 Asking about the reasons behind his support to BJP and NDA Baba Ramdev said that, there is no lack of options in politics. We have always said that our support is issue-based. He said that he demanded the assurance from the party in writing on his 9 issues and they are ready to give that. A force in itself, Baba Ramdev has at least lakhs of avid followers across the country. Ramdev had vowed to mobilize 50 crore voters in the country.
After Nitin Gadkari,Yog Guru will meet all the other leaders of BJP and NDA for the wriiten assurence to support his issues. Yog Guru Baba Ramdev will visit near about 543 political leaders in this concern. He is also going to meet uddhav Thakrey said Ramdev Baba.
…Puja Singh