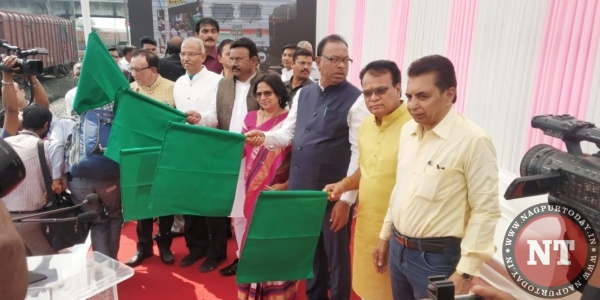 Nagpur: After the Prime Minister Narendra Modi flagged off the maiden journey of Ajni-Pune Humsafar Express through video link from Pandharkawda in Yavatmal district on Saturday, the Guardian Minister Chandrashekhar Bawankule personally green signalled the train at Ajni Station and extended happy journey wishes to the passengers.
Other dignitaries present at the programme held at Ajni Railway Station include Mayor Nanda Jichkar, Rajya Sabha member Dr Vikas Mahatme, MLAs Krushna Khopde, Dr Milind Mane, BJP leader Arvind Gajbhiye, Additional Divisional Railway Manager Trilok Kothari, Chief Mechanical Engineer Manoj Joshi and other officials.
Bawankule said that people in Nagpur were demanding an additional superfast train to Pune since long time. The demand was fulfilled today. With Humsafar Express, problems of citizens travelling to Pune including 'loot' by private travel operators, have been solved. The minister thanked the Prime Minister Modi, Railway Minister Piyush Goyal, Chief Minister Devendra Fadnavis and Union Minister Nitin Gadkari for the additional superfast train to Pune.
The Railway administration had made arrangement of direct telecast of Prime Minister's Pandharkawda programme at Ajni Station through video link. The dignitaries and passengers therefore could watch and hear Modi's speech.
The train is latest addition to Pune ex-Nagpur and provide cushion for travellers from region. The regular service of the 22139/22140 Pune-Ajni-Pune Humsafar Express will start from February 23 onwards. Ex-Pune the train will run every Saturday and it would be weekly in nature. From Ajni the train will run every Sunday. The train will have stoppages at Wardha, Badnera, Akola, Bhusawal, Chalisgaon, Manmad, Daund and Pune. The regular train 22140 Ajni-Pune will begin the journey at 19.50hrs, Wardha-20.51/2053, Badnera-22.38/22.40, Akola 23.43/23.45, Bhusawal (second day) 01.55/02.00,Chalisgaon 03.19/03.20, Manmad-04.40/04.45, Daund-10.15/10.15 and reach Pune at 11.45 hrs. From Pune Train No. 22139 Pune-Ajni will leave every Saturday at 22.00 hrs and arrive at Akola (second day)- 08.38/08.40, Badnera-10.18/10.20,Wardha-11.38/11.40 and reach Ajni at 13.15 hrs. The train will have 15 coaches including 13AC-III and two SLR bogies.