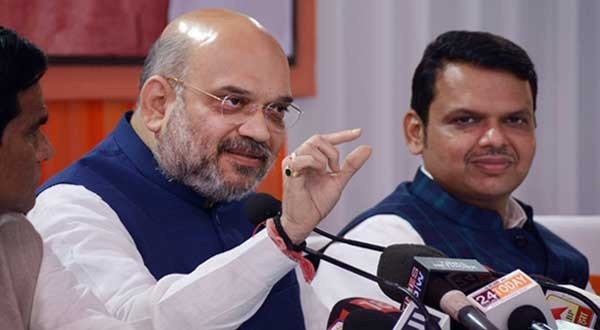 Mumbai: After having quit ahead of the floor test in Karnataka assembly, elections to six local authorities constituencies in Maharashtra legislative council will prove another acid test for the ruling Bharatiya Janata Party (BJP). For the BJP, it will be a matter of prestige to wrest the Osmanabad-Latur-Beed local authorities constituency seat, while for the Shiv Sena winning Raigad-Ratnagiri-Sindhudurg local authorities seat will be a matter of prestige. It will be a direct contest in almost all the six local authorities constituencies between Congress, Nationalist Congress Party (NCP), Bharatiya Janata Party (BJP) and the Shiv Sena.
The stakes have been raised higher in the direct contest between Aniket Tatkare (NCP) and Rajiv Sable (Sena) in the Raigad-Ratnagiri-Sindhudurg constituency after Narayan Rane, Rajya Sabha MP of Maharashtra Swabhimani Paksha (MSP) leader extended his support to Tatkare of NCP. As the Sena hijacked BJP candidate in the Palghar Lok Sabha by-poll, the BJP has backed independent candidate Parvej Kokani in Nashik. There is a triangular contest between Narendra Darade (Sena), Shivaji Sahane (NCP) and Konkani.
In Wardha-Chandrapur-Gadchiroli constituency, it is yet another direct contest between Ramdas Ambatkar (BJP) and Indrakumar Saraf (Congress). In Parbhani-Hingoli constituency, although it is a direct contest between Suresh Deshmukh (Congress) and Viplave Bajoria (Sena), the BJP has kept its rebel candidate Suresh Nagre in the fray just to upset the Sena's poll calculations. In Amravati, it is a direct contest between Pravin Pote-Patil (BJP) who is minister of state for Industries and Anil Madhogarhia of Congress.
Besides the Raigad seat, the stakes are higher in the elections to the Osmanabad-Latur-Beed, where it is a battle of prestige between minister Pankaja Munde Dhanajay Munde, leader of opposition in Legislative Council. There is direct contest between Suresh Dhas, former NCP minister and now BJP candidate and NCP backed Independent candidate Ashok Jagdale. Out of the six local authorities constituencies that are going to polls on May 21, three seats are currently held by NCP, 2 by BJP and 1 by Congress.