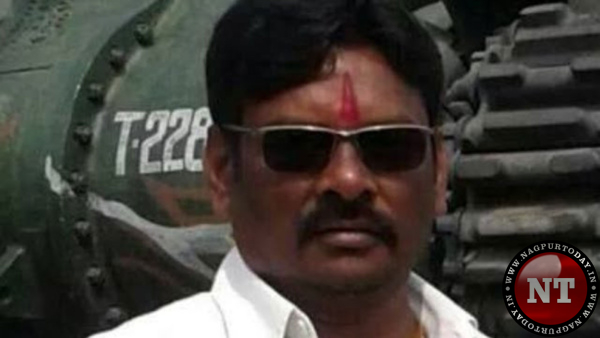 Nagpur: The BJP government in Maharashtra has been seeing red in its face over its telling ignorance in taking action against its own party's strongman Omprakash alias Munna Yadav, who is absconding for over five months now. Now that Nagpur bench of Bombay high court has rapped the state government over the inordinate delay in filing reply, the state government woke up from its slumber and filed an affidavit opposing anticipatory bail plea of Yadav, also a chairman of Maharashtra State Construction Workers' Welfare Board (MSCWWB).
An affidavit by police inspector Aanchal Mudgal, attached to crime branch, contained a list of 10 offences registered against Yadav, considered close to chief minister Devendra Fadnavis.
Justice Vinay Deshpande adjourned the hearing till Friday while directing the BJP leader's counsels led by Uday Dable, Mohit Khajanchi and Chinmay Dharmadhikari to file reply by Friday.
After rejection of his anticipatory bail petition by sessions court on March 15, Yadav knocked HC's doors challenging the verdict. He earlier withdrew his bail application from the HC after it was about to be dismissed on February 2.
Munna Yadav and his family, including wife Lakshmi, and sons — Karan and Arjun — was booked for attacking and seriously injuring Mangal Yadav, his sister Manju, brothers — Papa and Gabbar Yadav, and others, on October 21 over a dispute on bursting firecrackers. Mangal and his kin were attacked with sword, iron rods, sticks and bricks, which left them seriously injured and were admitted to hospital. Initially, the police had booked the accused under sections 324, 325, 147, 148 and 149 of IPC, besides 307, for attempt to murder, before dropping the last offence.
Dhantoli cops had earlier declared Yadav's family as "known criminals" in their affidavit before the court. The crime branch, however, didn't reiterate it, but dropped the offence under Section 307 against his family as well as of the rivals, thus diluting the cases against both families.
Quoting medical reports of the injured, Mudgal said except two grievous injuries to two different victims, all other injuries are simple. On the basis of eventual outcome of investigation based on the facts and circumstances, witnesses and medical officer's report, Section 307 is dropped from both the counter-offences and Section 326, 294, 506 of IPC were added for rioting and voluntarily causing grievous hurt. Accordingly, charge sheets under Section 299 of Criminal Procedure Code (CrPC) were submitted in the court on March 1, 2018, he said.
Opposing Yadav's bail plea, the crime branch informed that from the spot of incident, hockey stick, stones and bamboo sticks were seized and statements of witnesses were recorded. During the course of investigation, a sword came to be seized from one of the accused Jaggu (Avdesh Nanku Yadav), which was alleged to be used by Yadav in assaulting Satya Prakash.
HC seeks AGP's resignation
Even after facing HC's ire on numerous occasions in the recent past, additional/assistant government pleaders (AGPs) have failed to improve their behaviour. On Thursday, when AGP attached to Munna Yadav's case failed to remain present at 10.30am with reply, Justice Deshpande slammed him over the sorry state of affairs.
Expressing utter disappointment on GP's office inability to file a reply to its notice even after 10 days, the upset court asked the concerned AGP to consult with the government and tender his resignation, if he couldn't take instructions properly.
The judge even summoned GP Sumant Deopujari tersely asking him to take a note of his subordinates' behaviour. He was also flayed for not being able to control AGPs and APPs working with his office.
On Wednesday, the HC had granted last chance to AGP to file a reply within a day while flaying him. However, when the hearing commenced on Thursday, the AGP still failed to remain present. It was only after coming under fire that the AGP filed an affidavit late in the afternoon, after which hearing was adjourned till Friday.
The AGPs and APPs are already facing the flak from Justice Rohit Deo for absence of commitment and lack of will to burn the midnight oil. He had openly stated in the order that their non-performance is particularly painful.