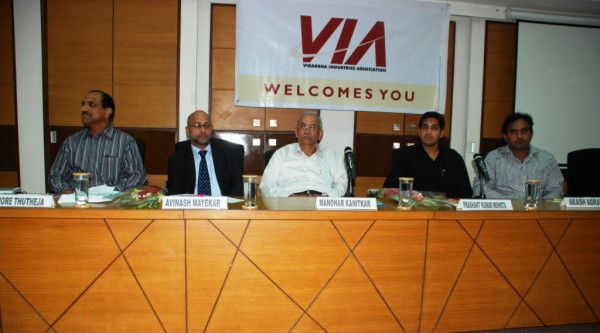 Nagpur Business News: Advantage Vidarbha – Investment opportunities in Textile was organized b Vidarbha Indutries Association (VIA) in association with Suvin Advisors Private Limited, ITP Synergy Advisory Services and Mill owners Association on Thursday at VIA Hall at Udyog Bhavan at 5 pm. Kishore Tutheja, Chairman – Texgar Wing delivered the keynote address and welcomed the speakers. Prashant Mandke, General Manager – Business Development, spoke at the seminar, elaborating on various opportunities in Vidarbha. While speaking, he said that 1990 onward  India has progressed as a global contributor. Most of the production is happening in Asian Companies. The World Textile and Apparel Trade projection is around 805 bn USD. Speaking about India, he informed that the Indian Textile Industry ranks 2nd after China in terms of Output. The Indian Textile Industry and Apparel market is 85 bn USD and by 2020 it is expected to be around 220 bn USD. He also informed that Major Export and Growth Textile Manufacturers will gradually shift to low cost Asian Countries.
Speaking about Maharashtra, he said that the state contributes around 10.4% of the total production of India's textile and apparel. That it is the 2nd largest cotton producing state. It has the highest FDI in the country and also is the highest contributor to the national GDP. In the textile industry value chain, Maharashtra has the ability to provide end to end solutions i.e from Raw material to finished garment. Among the notified SEZs, Maharashtra has MIDC, Solapur; MIDC, Yavatmal; MIDC, Amravati and MIDC Nagpur. Also that Maharashtra has Bombay Textile Research Association, Central Institute for Cotton Research, Wool Research association and The Synthetic & Art Silk Mills' Research Association.
Mandke then spoke about Advantage Vidarbha. He stated that Vidarbha is centrally located and   that it is strategically placed in international aviation routes. He said that there were investment possibilities in Spinning, Woven Technical Textiles, Coated & Laminated Textiles etc. A few Project Synopses too were discussed which included Investments and RoIs. Mandke added that additional inflow of investment would create employment avenues for people in the region and would boost the economy of the region and would eventually control farmers' suicide. Mandke highlited that the new textile policy was favourable for the industry and the highlight was the provision of 12.5 % subsidy and 10 % capital subsidy for new co-operative and private sector textile units coming up in these regions.
Chetan Sangole, Managing Consultant ITP Synergy Advisory Services Pvt. Ltd then spoke on the potential of adopting energy efficiency measures for energy conservation and the resulting cost benefits. Ketan Chheda, Senior Consultant ITP also briefed about various methodologies.
Prashant Kumar Mohota, MD GIMATEX while providing solutions discussed about the problems faced by the industry. LN Kaushik emphasised abou the importance of Women Entrepreneurs.  V Y Tamhane, Secretary, Mill Owners Association spoke on the various problems and issues faced by the textile industry. The event was summed up by Avinash Mayekar, MD Suvin Advisors. Akash Agrawal, Secretary – VIA and other office bearers were also present at the association.