Advanced Trauma course on Tribal Condylar Injuries on 26th august 2018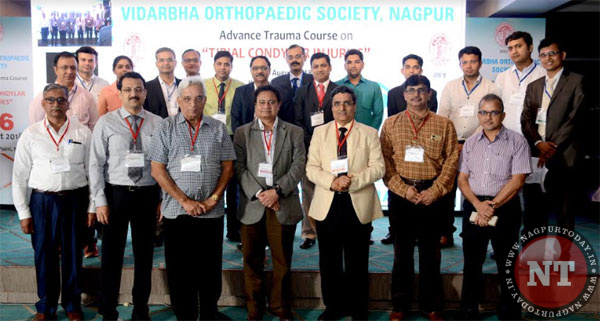 Nagpur: With increasing number of high energy injuries due to high speed 2 wheeler accidents there is an increase in accident related work loss for the active earning members of the society.
Tibial condylar injuries and fractures pose a wide range of challenging scenarios And require careful understanding of the fracture pattern, meticulous planning and skillful execution to achieve results and a satisfactory outcome. Vidarbha orthopaedic Society (VOS) had organized a day long advanced trauma course on "Tibial condylar injuries" on Sunday 26th , 2018 at Hotel Centre Point Ramdaspeth Nagpur from 8-00 a.m. to 5p.m.
Eminent Master trauma surgeons faculty were chosen to conduct the course to enhance knowledge and understanding of "Tibial Condylar Injuries".
Dr. D. D. Tanna, Trauma and Reconstructive Surgeon, Mumbai, Dr. Sharath Kumar Rao, Prof. and Associate Dean, KMC, Manipal; Dr. Jignesh Pandya, Trauma Surgeon, Surat & Dr. Swapnil Kathadia, Trauma Surgeon, Solpur. Dr. Sangeet Gawhale along convener Dr. R.M. Chandak President Dr. Ravi Dashputra Secretary Dr. Sumedh Chaudhary and MMC Observer Dr. Avinash Patil, formally inaugurated the conference.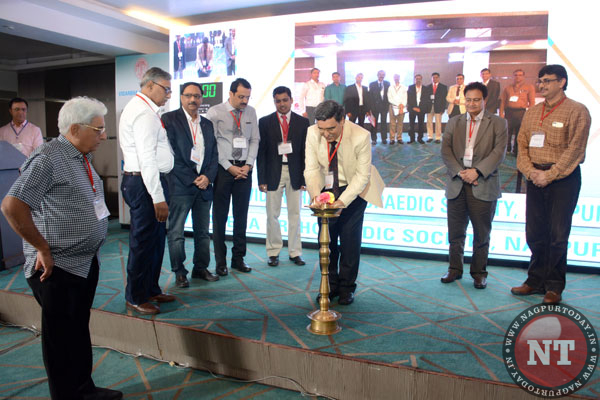 It was emphasized that not only a plain x-ray but a CT Scan is must for all joint involved in fracture around the knee joint. The conference was telecast live all over India, and the training was imparted by means of bone models, surgical videos and lectures.
Over 150 Orthopaedic surgeons not only from Vidarbha but all over the country attended the conference and received hands on training on managing knee injuries.
Dr. D. D. Tanna, one of the senior Faculty for the conference remarked that "This was one of the unique , meeting and everything on proximal Tibia Fracture was beautifully discussed and the young faculty did a wonderful job in analyzing and guiding the audience. I don't think such a meeting will be held in near future because full day meeting on one injury is more informative than a hotch potch of multiple topics. I am proud to be associated with this conference as faculty." Dr. Jignesh Pandya , Dr. Sharath Kumar Rao , Dr. Swapnil Kothadia and Dr. Sangeet Gawhale also give a wonderful guide to the conference.
Maharashtra Medical Council (MMC) had accredited the course and granted credit hours. Organising Committee consisting of Dr. R.M. Chandak, Dr. Sumedh Chaudhary, Dr. Vikram Sapre, Dr. Pankaj Tathe, Dr. Ninad Godghate, Dr. Neha Godghate, Dr. Aditya Kekatpure, Dr. Aditya Bothra, Dr. Rahul Agrawal, Dr. Piyush Dhawale, Dr.Chandrashekhar Jaiswal, Dr.Amol Patil, worked hard for the success of the conference Dr. Ravi Dashputra President VOS, made opening welcome speech Dr. Sumedh Chaudhary, Hon. Secretary VOS proposed the vote of thanks.