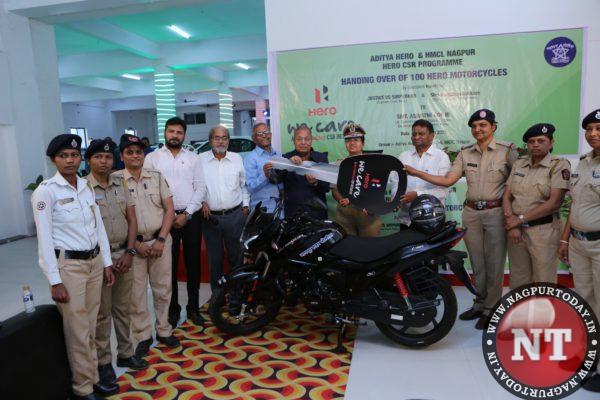 In a grand ceremony at their MIDC premises, Aditya Hero and HMCL Nagpur gave away 100 Hero motorcycles and helmets to Nagpur Police Force under their CSR initiative. The 100 Hero motorcycles were ceremoniallyhanded to Smt. Aswathi Dorje who accepted the motorcycles on behalf of Nagpur Police Force. The handing over was done by the gracious hands of Justice VS Sirpurkar (Supreme Court, Retd.), Shri RambhauHarkare (RSS, Vidarbha PrantSanghachalak) and Shri Jaiprakashji Gupta (Member, Khadi and Village Industries Commission, Govt. of India) and Shri Ashish Rathi (Sr. Area Manager, HMCL, Nagpur)
Aditya Hero along with HeroMotoCorp Ltd. have a long history with CSR initiatives especially in the fight against COVID-19, when they went above and beyond through the entire pandemic, donating thousands of facemasks and 3 mobike ambulances, 300 nos PPE kits to the NMC doctors. More recently, last year they gave away 50 scooters to the Nagpur Women Police Force along with 500 helmets and 10 scooters to the NMC Fire stations of Nagpur by the gracious hands of Shri Nitinji Gadkari (Hon. Union Minister for Road Transport and Highways).
Aditya Hero has always worked tirelessly towards the cause of Road Safety. In the programme they distributed certificates of 'Sadak Suraksha Pratigya' urging the citizens to be more vigilant about road safety. Certificates of 'Aditya Vanikaran' were also distributed, in order to encourage the citizens to work towards afforestation.
Shri Ashish Rathi spoke about Hero's reach and efforts to reach the common man. Dr. PK Jain spoke about the importance of road safety. Smt. Aswathi Dorje spoke about how the subjects of Road Safety and Women's Empowerment is intertwined as when women are empowered they can educate an entire family. Shri VS Sirpurkar spoke about the importance of following the law and traffic rules. Shri Jaiprakashji Gupta spoke about the spirit and importance of 'narishakti'. Shri Ram Harkare spoke about the need of tireless work in the cause of road safety.