Nagpur: State Director General of Anti-corruption Bureau Praveen Dixit, who was in city for assessment for two days assessment assured that the department will no longer neglect neglecting the corruption cases that, has alleged involvement of senior officers.
"In majority cases, juniors got trapped in ACB net while he is accepting bribe in the name of the seniors. Despite of the allegations, the seniors remain tension free. Now on wards, strict investigations will be conducted to reach the main culprit," said he.
He informed that within 90 days, ACB officials will be taking action against any senior officers allegedly involved in the corruption case.
"Usually, we have to wait for years to get an order from government to conduct check or take action against corrupt senior officials but now onwards within 90 days the investigation will begin," told the top cop.
The top cop informed an application has been submitted for Independent court to increase the conviction rate.
While Nagpur leading with 441 cases pending for Trail in special courts in Maharashtra (as per the statistics uploaded at official website of ACB Maharashtra),
"Currently, the conviction rate is 26% but it's not satisfactory," said Dixit while addressing media persons with SP Nishith Mishra in the city at ACB office on Saturday.
He assured of getting Independent courts at Nagpur, Mumbai, Thane Pune and Nanded. ACB official website shows that the cases pending for Trial in special court is 441till 2013, followed by Pune with 373 cases and Pune with 304 cases.
Only citizens can wipe out corruption if they show their will power, asserts DG, ACB Dixit
The newly-appointed Director General, Anti-Corruption Bureau, Maharashtra, Praveen Dixit, IPS, also attended a guidance seminar organized by Nagpur District Unit of Maharashtra Police-Nagrik Samanvay Samiti (Police-Citizens Coordination Committee). Dixit earnestly appealed citizens to gather their strength and make will power strong and approach the Anti-Corruption Bureau whenever any Government employee demands bribe from them for doing their works.
"The disastrous effects of corruption on our public life are clearly evident to all of us. We all wish to live in a corruption-free society. While there are adequate laws to punish the corrupt and agencies to investigate and prosecute the culprits, what is lacking is the will to come forward and fight corruption at all levels. Corruption has become an accepted part of life today. However, it is one of the main factors standing in the way of a higher standard of life for the common man, the Director General, ACB, Nagpur Bhushan Praveen Dixit said in his massage.
The Nagpur Bhushan Praveen Dixit further said, "While the investigative agencies can act on complaints given by citizens, there is a need for an equal partnership between Government and the citizens in the fight against corruption. Ultimately corruption can be eradicated only if civil society wills it so."
Dixit said, "When I had not joined the police service, I had gone to a Government office for some work. The employee to whom I met for my work was hesitating and avoiding to do my work for obvious reasons. Though he did not demand money directly to me, he was deliberately was not doing my work and taking his own time. I also sat there for 4-5 hours until the employee did my work. I was firm in not giving him money. And why should I give money to him? He gets salary from Government for doing works of public. So people should stop giving money to Government employees and if they demand bribe, people should approach ACB without any fear. The ACB will take action on people's complaints against the Government employees demanding bribes within a stipulated time. But people should come forward with the sole purpose of ridding the society from corruption. People should keep their cool when government employees demand money from them. Don't quarrel with them. Instead, straightaway approach ACB. The ACB is available any time of the day, and sometimes even in dead of night," Dixit asserted.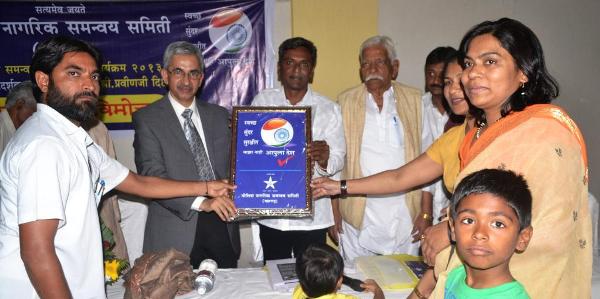 At the outset, Praveen Dixit lighted the traditional lamp to mark the inauguration of the seminar. He thanked the President of Maharashtra Police-Nagrik Samanvay Samiti Pravin Raut for inviting him for the seminar. Those who graced the function include senior social worker Umesh Chaube, Constitutional expert Mahesh Joshi, famous Tabla player Prashant Gaekwad, who has entered his name in the Guinness Book of World Records, Dr Rajendra Gundewar, Dr Vaishali Raut, and large number of Maharashtra Police-Nagrik Samanvay Samiti members and hundreds of citizens.
The Director General ACB Praveen Dixit unveiled a portrait with a slogan "Sundar, Surakshit Maza Nahi Aapula Desh" (Beautiful, Safe Not Mine Our Nation).
The President of Maharashtra Police-Nagrik Samanvay Samiti Pravin Raut felicitated the Director General ACB Praveen Dixit by offering him shawl and Shriphal on behalf of Nagpurians. Replying to his felicitation, Dixit said, "Nagpurians showered their love on me when I was Police Commissioner of Nagpur City. I will always be grateful to them for their love." Dixit also extended his greetings to Maharashtra Police-Nagrik Samanvay Samiti and hoped the Samiti will work for welfare of people. He wished that the Samiti will make a great progress in the near future.