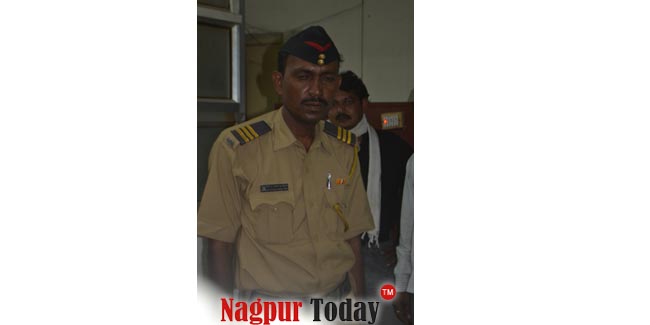 Nagpur News: The Anti-Corruption Bureau (ACB) in a well-planned operation trapped a police Head Constable for demanding and accepting bribe from a person in the business of waste paper collection and selling.
According to ACB sources, the complainant one Gangadhar Ramesh Dekate (38), a resident of Indira Gandhi Nagar, near Rani Durgawati Square, Binaki Mangalwari, in his complaint to ACB, informed that a Police Head Constable Mangesh Manohar Giri (Buckle No. 4310), a resident of Pachpaoli, and attached to Yashodhara Police Station, was on patrolling duty for some days. Wnenever, Mangesh passed through the road where Gangadhar's residence is located, the Head Constable used to threaten Gangadhar for reasons that the waste paper bundles and other waste goods were getting spread on the narrow road and that may lead to any accident. The gullible Gangadhar "bribed" the Head Constable Mangesh thrice by paying Rs 200, Rs 500, and Rs 200 (Total Rs 900) over a period of a month or two.
However, the greedy Head Constable Mangesh "advised" Gangadhar that instead paying small amounts he could pay him Rs 500 per month on regular basis. The frustrated and angry Gangadhar decided to teach Mangesh a "bribe" lesson and accordingly, approached the ACB. Gangadhar met DCP (ACB) Nishit Mishra, IPS, and narrated the entire episode and urged him to help him from the Head Constable's clutches. Mishra immediately ordered DySP Reddiwar, PI R Bahadure, Head Constables Kale, Milind, Rajendra Jadhav, and Nitin to deal with situation.
And, accordingly, the ACB personnel laid a trap and asked Gangadhar to pay Rs 500 (Marked by ACB) to Head Constable Mangesh Manohar Giri as demanded by him. Unaware of the trap, Mangesh accepted Rs 500 from Gangadhar. As soon as Mangesh pocketed the marked money, the ACB men caught him red-handed while accepting Rs 500 as bribe money. The ACB immediately arrested Head Constable Mangesh and took him away with them to ACB office for further investigation.