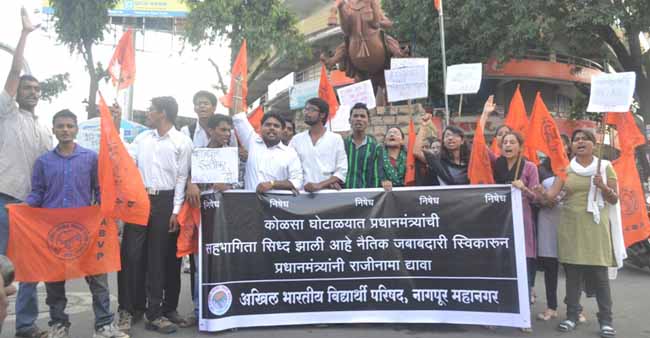 Nagpur News:
Student activists of Akhil Bharatiya Vidhyarthi Parishad (ABVP) staged a dharna demanding resignation of Prime Minister Manmohan Singh on his comment on the recent coal scam issue. The ABVP activists protested against the Government and Prime Minister near Jhansi Rani Square, Nagpur on Saturday October 26.
ABVP carried out a nationwide protest today, informed ABVP Nagpur City Secretary Abhijeet Wadnere. In an exclusive interview with Nagpur Today, Wadnere said that they are protesting on the issue of Prime Minister's response to the FIR lodged by the Central Bureau of Investigation's (CBI) in the coal block allocations scam involving Hindalco. On Thursday Prime Minister Manmohan Singh said that he was ready to face the probe. ABVP activists alleged that since PM Manmohan Singh was in charge of the Coal Ministry, at the time and he should subject himself to questioning by CBI.
Abhijeet Wadnere also asserted that the PM should resign since he is party to the coal scam.
The ABVP is all set to initiate a signature campaign from tomorrow. They intend to send the same to President of India. After ten days ABVP will come on roads and carry out massive protest nationwide, informed Wadnere.