AAP demands Traffic signal, Traffic police at Pili Nadi Chowk, also an underbridge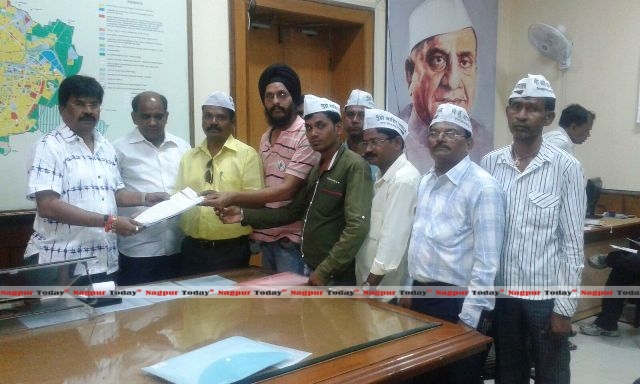 Nagpur: A delegation of Aam Aadmi Party Nagpur unit, handing over a memorandum to NMC Commissioner and DCP (Traffic) on October 7, demanded installation of Traffic signal and posting of Traffic police at Pili Nadi Chowk. It also demanded construction of under-bridge over there.
The AAP activists explained to the authorities concerned the reasons of their demands. According to them, the traffic is growing to unmanageable extent on Pili Nadi Chowk (Kamptee Road) causing great inconvenience to passers by, their vehicles, school-buses, ambulance and various other means of conveyance. The delegation further said, the chowk has become accident-prone due to heavy traffic as well as irregular traffic. As a result, one person has to lose his life in a month.
The local residents and school children residing around Pili Nadi Chowk pass through this chowk at great risk to their life. It is their request that the traffic signal be installed over there, traffic police be posted and under-bridge be constructed at the earliest.
The delegation brought to the notice of the authorities that the AAP activitsts had written a letter to NMC on Sep 10, 2015 with copy to Traffic Control (Indora) in this regard, but no response was made. They also wanted to know the action taken on their earlier letter.

Now, they have given an ultimatum of 10 days to NMC to fulfill their demands, or else the AAP activists will be compelled to intensify their demands by way of agitations. A large number of AAP activists were present at the time of handing over the memorandum, informed a press note issued by Prabhat Agrawal (in-charge media).