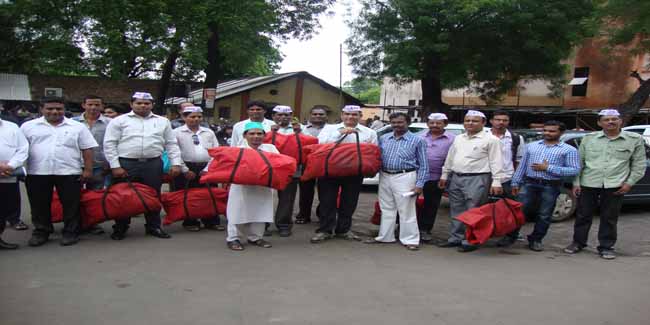 Nagpur News: The Aam Aadmi Party (AAP), in a fine gesture, handed over 10 life-saving suits to Collector Saurabh Rao. The AAP's helping move follows enormous difficulties faced poor by citizens who found themselves at the mercy of the Almighty in the very dangerous situations posed by heavy to very heavy rains. The poor people, particularly living in slums, have to battle with flooding of their "Katcha Jhopdis" by rain water.
The District Administration, as the foremost priority, gets into the rescue and relief operations in order save the people trapped in the life-threatening situations. The time plays an important role in the rescue and relief operations. The AAP, after considering the rain-related hazards the Nagpur citizens and surrounding people face, has handed over 10 life-saving suits (kits) to the District Collector.
The AAP is a totally a different party and its goals have been aimed at betterment of weaker sections of the people in the society rather indulging in blame games in the disaster situations. The blame game is a tradition of some political parties. And the AAP is moving in the direction of respecting human values by launching various programmes through the people oriented politics
The District Collector praised the excellent venture on the part of the AAP and said that such good actions should continue in future too. The life-saving suits have been manufactured with the latest technology having features like radium plates, whistles, lifting metal buckles generally used by helicopters to save the people trapped in deep waters or roof tops, etc. Life jackets are also part of the life-saving suits which enormously help the people who are trapped in flooded water by keeping them floated for several hours instead of drowning in the swirling waters. The demonstration of the life-saving suits could be seen on http://www.youtube.com./watch?v=R10hpgIGog , said a press release issued by the Spokesman of the AAP Girish Nandgaokar.
The following AAP leaders played an important role in the venture including District Organiser Devendra Wankhede, Secretary Rajesh Pugliya,Office-bearer Ambarish Savarkar, and others.