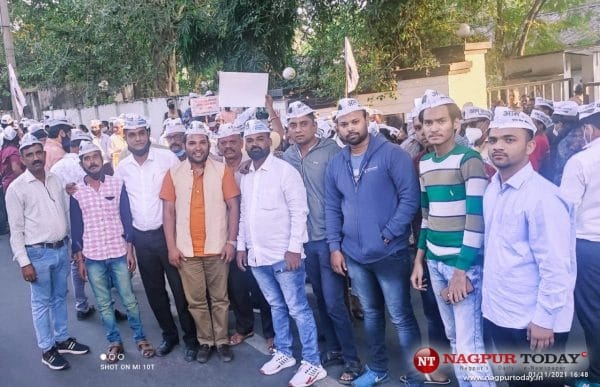 Nagpur: 'Diva-Kandeel' agitation was recently organized under the initiative of Aam Aadmi Party, Nagpur. People have been celebrating Diwali in the dark for the last two years due to the outbreak of the coronavirus pandemic, now when the corona crisis is about to subside, the public is again ready to celebrate Diwali openly, but MSEDCL is running a massive campaign to cut off the electricity connections of people.
This campaign should be stopped immediately, this year at least do not darken Diwali in people's homes, appealed AAP activists led by Akash Sapelkar. For giving this message, 'Diva-Kandeel' movement was organized by Aam Aadmi Party Nagpur. The purpose of the movement is to protest against the anti-government policies of the general public; impar awareness and ensure these unjust policies are stopped. Today we are buying electricity at the most expensive rates in entire India. Ours is a power producing state, yet the public is worried about the electricity issue. It is an injustice to all of us.
The government should be making policies on public interest to help people overcome this problem, especially considering the outbreak of the coronavirus pandemic and the resultant lockdown. People had a lot of trouble regarding electricity bills, but the government did nothing. AAP leader and Vidarbha Sangathan Mantri Akash Sapelkar, Ravindra Gidode, Amit Mone, Bablu Mohadikar, Imran Qureshi, Tausif Qureshi, Salman Sheikh, Almas Qureshi, Shabaz Noor, Imran Qureshi and other officials were prominently present during this agitaiton.