Nagpur News.
Just before the festive season sets in, Nagpur gears up to show its gymnastic skills at dahi handi competitions which are the essential flavor of Janmashtami celebrations every year. Move away Mumbai…aapla Nagpur is no behind when it comes to exude finely tuned skills at prized catch. The prizes range from Rs 11000 to over 1 lakh by various mandals organizing the competiton. Be it well dressed Govindas or Gopiyas for that matter, or the tiny toddlers reflecting ecstasy and divinity through their bejeweled imitations of Lord Krishna, all are soaked up in colors of Krishna celebrated on Wednesday.
Gopal kala (special food offering to Lord Krishna) and sweet delights keep everyone in Nagpur tempted to the religious fervor till midnight, the time when Thakurji (Lord Krishna) was said to have incarnated on planet Earth.
But before you catch up with all the fun and excitement mixed with high volumes of DJ to accord big welcome to Janmashtami today, Nagpur Today takes you to the city's tour to explore festive mood further.
Let's Go…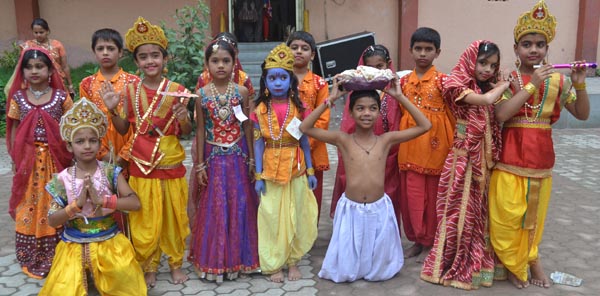 Gokul ke Gwale
Little masters can't help but surrender to the simple lust of festival the way Lord Krishna craved for dahi and makhan. The children in bejewelled attires reflected a close view of Gokuldham where Lord Krishna was said to have revelled the people through his cosmic actions.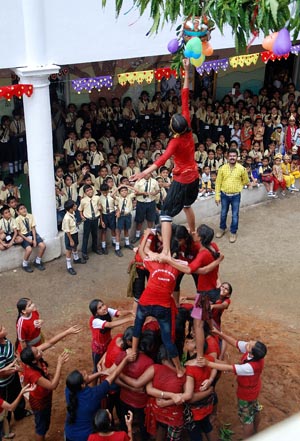 Gopiyaan for changing game
Like last year this year would also throw some dahi handi competitions pulled off by girl participants. The competition, considered as men's domain, was also organized for women by Itwara Navyuwak Mandal last year for the first time in Nagpur.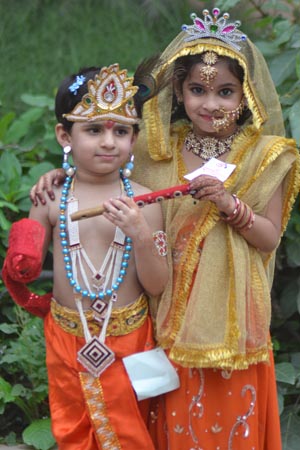 Radha chants Music Mantra
Both Lord Krishna and his muse Radha are said to be an integral part though they were not married to each other. So when it comes to matching the likes of Lord Krishna, Radha accompanying to the tune of Krisha's flute can't be left behind. Tiny toddlers in Nagpur know this and hence, pull the pack perfectly.

Let's Beat Blues of Sin
Lord Krishna was said to have taken avatar to cleanse the world of sin. The deity is famously recognized in his avatar reflecting blue skin. The same is convincingly propagated by this boy who surely wants his Nagpur churned out of increasing crimes.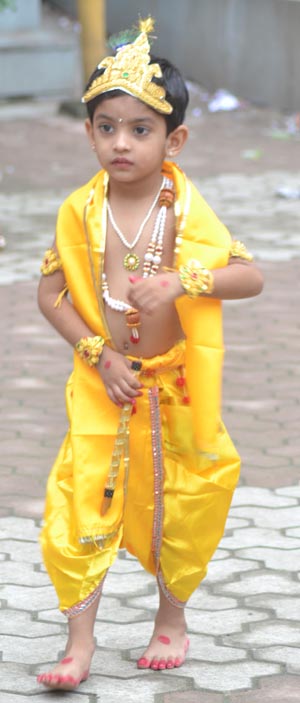 Pure Cosmic …No Cosmetic
Legends have it that when Thakurji (Lord Krishna) showed its cosmic appearance it became evident from the light his face reflected. Also known as shyam (black colored) for his dull complexion, Lord Krishna is imitated to perfection by a young boy in Nagpur.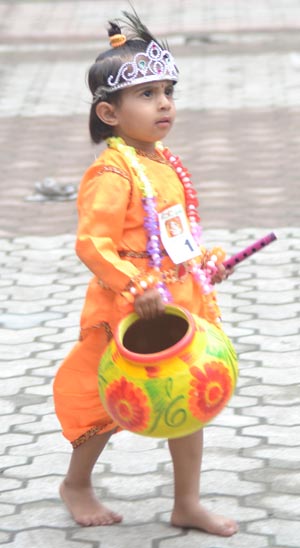 Empty Vessel makes Flute Music
Nandlal, a fond name of Lord Krishna, is famous for stealing freshly churned butter from the houses of Vrindavan. So this boy armed with flute has set off in search of some fresh milky temptation.