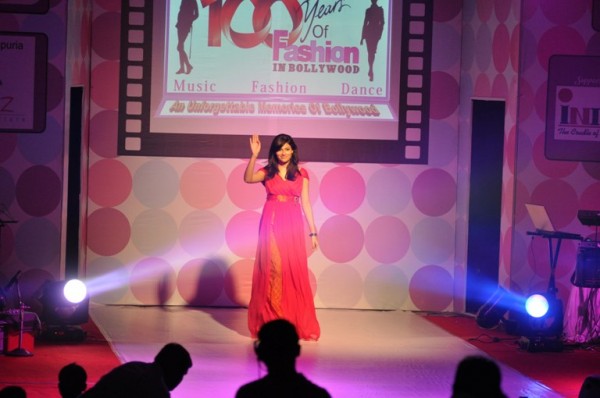 The bollywood industry is formed when various spheres like music, drama, actors, directors, dance and many more are embraced together. One such important sphere, that has been proved to change the style statement, not only in the industry, but for 'mango people' as well is Fashion! Fashion has always introduced various different trends. Let it be the 'Black and White Era', where the charm of actors like Madhubala and Kishor Kumar ruled, or let it be the recent era, wherein numerous actors leave a style statement behind.
Showcasing the importance of Fashion in Bollywood, the completion of a big day, a hundred years of fashion in bollywood was celebrated at Vasantrao Deshpande Hall. A black and white, to colorful world of bollywood walked on the ramp when the models displayed variety of fashion industry of bollywood.
Organized by the Bhartiya Agrawal Ekta Club, the show was presented by Dinesh Mishra. The program had Miss India Vanya Mishra for a guest appearance, that pitched up the intensity of the gala. The show was inaugurated by AK Shrivastav, Rajendra Kumar Goenka, Janardan Mishra, Vaibhav Jaipurya, Vishal Agrawal and Hansraj Potdar. The planning of the show by Deepali Mishra and the conduction done by RJ Rajan was worth appraisal.
Various themes like the 'Black and White Era', 'Retro Era', 'Disco Era', 'the Yash Chopda Era' and 'Aaj Ka daur' were chosen for the ramp walks. The models that gracefully came forward had the crowd amused incredibly. Dance performances as fillers took the show to a different level. The show was a great success!