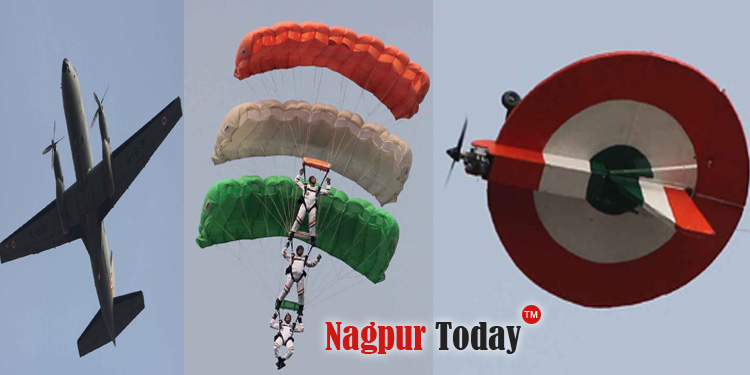 Nagpur News: The Air Show and static display organised by Air Force Station Sonegaon (also known as 44 Wing, Sonegaon) and the Maintenance Command of the Indian Air Force drew massive crowds at Air Force Station, Sonegaon on Sunday morning.
The show began with an impressive band display and a salute to Air Officer Commanding- in- Chief, Air Marshal Jagdish Chandra by the Air Warrior Drill Team (AWDT). The synchronised military performance held the audience in awe till the aero- modelling show began, with three model aircrafts taking flight in turns and performing stunts on air, much to the delight of the children present.
The most exciting part of the show by far was the flypast by three SU- 30 aircrafts, which flew in from the right of the audience in formation and dispersed into the clouds within minutes, taking the thundering roar of fighter- planes with them. Even as the audience sat wondering if the planes were coming back, six parachutes coloured in the colours of the Tiranga were seen descending from the sky.  The paratroopers of Akash Ganga, the IAF's skydiving team, descended in perfectly synchronised formations, bearing the flag of the Indian Air Force and other flags.
Paratrooper R K Singh, a member of Akash Ganga since 2003, termed weather conditions on Sunday ideal for skydiving. "The wind was around 8 knots, and the cloud cover was not a hindrance", said the Junior Warrant Officer in the aftermath of his maiden performance at Nagpur, today, "We jumped from a height of 8000 feet today. We do not jump from a height higher than 12,000 feet unless it is required in combat, for which we need to jump with oxygen and other equipment".  Singh, who has participated in training exercises in the U.S.A and Kazakhstan with Akash Ganga and helps train Army personnel in combat free- fall, said he found the crowd at Nagpur very enthusiastic.
"The movement that we performed was a new one, that has only been performed once before", said R. Sherawat, a member of the Air Warrior Drill Team. "The Air Warrior Drill Team is the only one of its kind in all of Asia. It was started in Chennai in 2005 and in New Delhi in 2007. We have a total of twenty seven members, though only eighteen perform at a time," said young Sherawat, who had to undergo a rigorous three- month training session to be selected for the team.