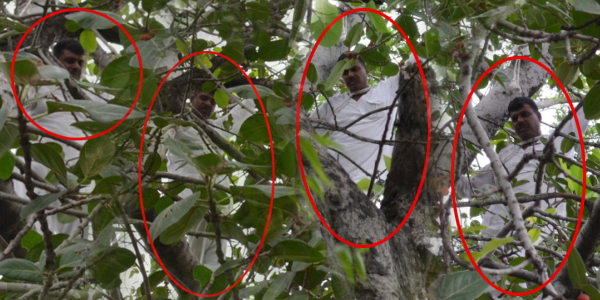 Nagpur News:
A scene from the mega-hit movie "Sholay" was repeated and witnessed in Nagpur, also. A la Veeru of "Sholay"style, a lovelorn 50-year old man climbed a tree and threatened to commit suicide by hanging. He was well prepared having a rope and that, too, around his neck. However, police succeeded in "pacifying" him and arresting him after a full 3-hour filmy drama.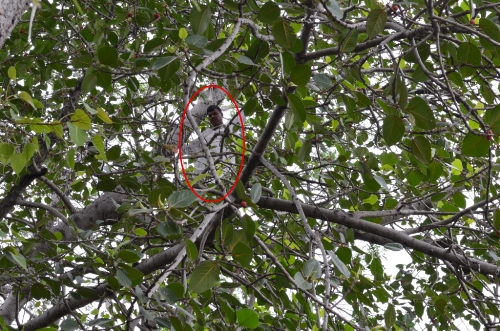 According to police, the incident occurred at Bahadura area on Umred Road. A man Mukund Kamble (50), a native of Kavathe Mahakal, Sangli, had murdered his cousin brother in 1996 and was awarded imprisonment for 7 years. After releasing from the jail, he went to Pandharpur and from there to Shegaon. In Shegaon, Mukund met a Bahadura resident woman. Both Mukunf and the woman fell in love at "first sight". Mukund also help the woman monetarily in running her house.
The woman in "mad love" with Mukund, lodged a complaint with police saying her husband is harassing and torturing her over petty issues. Police arrested her husband, too. However, after some time went bankrupt not only monetarily but also by "no more loving" woman. Their "made for each other" life started running on opposite tracks. Meanwhile, Mukund again went to Pandharpur and returned to Nagpur just 4-5 days ago.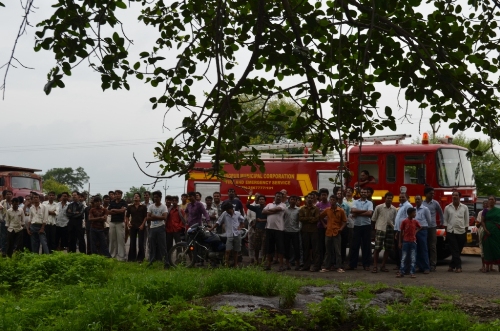 After returning to Nagpur, Mukund approached the "woman in his life" and asked her to return his money he had given to her on credit on the fictitious reason of going to Amarnath. But the woman refused to return the money by giving a fitting reason of physical affairs. In return, Mukund toll the woman to drop her daughter to the house of the woman's mother and accompany him to Amarnath. However, when the woman again refused the "offer" of Mukund, he bashed up the woman black and blue.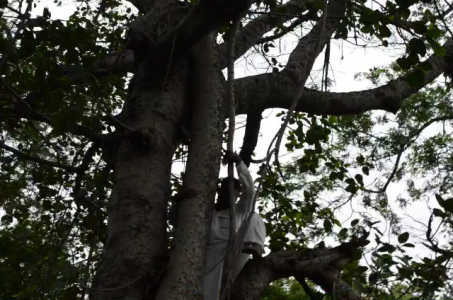 However, Mukund, overnight, turned "Veeru" of "Sholay" and in the morning at about 7.30 pm, climbed up a giant tree along a roadside and started covering his neck with a rope like a gallow. At the same time some nearby people spotted Mukund "committing suicide." They immediately alerted to Police Control Room. The Hudkeshwar police rushed to the spot and the PI Vasudeo Wandre and Additional PI Suresh Shinde asked Mukund to climb down. But the lovelorn Mukund bluntly refused follow the diktat of the senior police men. After sensing the mood of revolt, police summoned Fire Brigade men. The stone faced police, too, were forced to keep silence and just be spectators when Mukund threatened to jump from the tree and end his life. However, police played a pacifying game which was veru close to Mukund's chest: Return of money from the woman and "normal relations" with the woman. The game hit the perfect target and, finally, Mukund came down from the tree after three hours.
However, unlike Veeru of Sholay, who gets Basanti, Mukund got the police custody as he was booked by police under Section 309 of IPC.