Nagpur Today:
During the promotional visits at selected places in Nagpur, the Bollywood newcomers were seen setting the theatre screens on fire with their upcoming movie 'Hero'. Sooraj Pancholi and Athiya Shetty seemed to be having fun in visiting the city.
Directed by Nikhil Advani, Hero is a remake of Subhash Ghai's 1983-film of the same name and it will hit the screens on September 11.  In the original make the film stars were Jackie Shroff and Meenakshi Sesadri.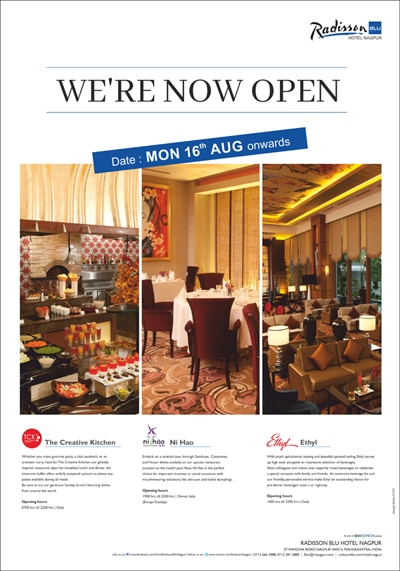 During the exclusive interview with Nagpur Today, Sooraj mentioned various aspects of the movie that would leave a viewer
charmed. The young heart-throbe didn't miss to mention the fun they had during the making of the film. On the other hand, Athiya, who has stepped into Meenakshi's shoes for the remake, noted that her father has been supportive in her journey of becoming an actress. "He was supportive and positive and suggested me to work hard and enjoy my work. My hobby became my profession  and hopefully it would remain a profession after September 11 (the release date of Hero)," she confidently remarked.
Athiya mentioned that her favourite scene with Sooraj in the film was the one at airport, whereas Sooraj had the shooting of the song 'Jab We Met' as his favourite. They also mentioned Salman Khan as a wonderful producer, who left no stones unturned while making 'Hero' happen, and quoted him as their great mentor.
As per the movie synopsis, the story suggests that when two worlds collide, a boy and a girl find themselves stuck in a whirlpool of such intense love that they would do anything, go to any extent and face all odds for the one they love.
Radha is the 21-year old daughter of the formidable Chief of Police. Sooraj on the other hand, has been raised by the unforgiving streets of Mumbai.
Hero is the story of love under conflict, but should their love prevail, has to be found out!
Presented by Eros International Salman Khan Films & Mukta Arts, the movie is produced under an Emmay Entertainment Production banner. Film Credits:
Directed by Nikhil Advani Films
Produced by Salman Khan, Subhash Ghai
Presented by Eros International
Co-produced by Amar Butala, Monisha Advani, Madhu Bhojwani
Associate Producer Garima Mehta
Original story by Subhash Ghai
Screenplay by Nikhil Advani, Umesh Bisht
Dialogues by Umesh Bisht
DOP: Tushar Kanti Ray
Editor: Ritesh Soni
Casting director: Mukesh Chhabra
Sound design: Manoj Sikka
Production design: Amit Ray, Subrata Chakraborty
Lyrics: Niranjan Iyengar , Kumaar
Music: Sachin–Jigar  Amaal Mallik  Meet Brothers–Anjjan  Jassi Katyal
Background music: Sandeep Shirodkar
Choreographer: Ahmed Khan
Action: Ravi Verma, Dave Judge Rinku Bachhan
Costume stylist: Anaita Shroff Adajania- Secondary Costumes Sheetal Sharma
Associate director: Ranjit Tiwari
Release by: An Eros International Worldwide Release
Release Date: 11th September 2015
PICS BY: Atharva Chandorkar