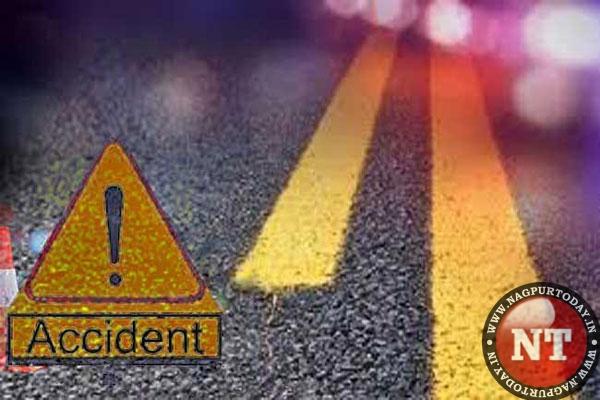 Nagpur: An 80-year old woman riding pillion on a villager's motorcycle died of head injuries after she was struck by the bucket of an earth moving machine at Bokhara T-point in Koradi area of Nagpur, police said on Friday. The motorcyclist also sustained serious injuries in the mishap.
Cops booked the driver of the earth moving vehicle for dangerously operating the Poclain machine (EAX-110/3271) and causing the death of the octogenarian due to negligence. Identified as Rukhmabai Sukhdeo Patil, the deceased was a resident of Chakki Khapa. Road construction work was underway between Khapa and Bokhara T-Point. The Poclain machine was pressed into service for the work.
Mahesh Mahadeo Nagankar (34), also a resident of Chakki Khapa, and Rukhmabai, were returning to their village on a motorcycle (MH-40/AG-0549) around 12 noon. The driver of the Poclain machine lost control over it. As a result, the bucket of the machine hit the bike passing-by. Rukhmabai and Mahesh fell off the motorcycle in front of Sisodiya Farm House. They were rushed to Mayo Hospital where the doctors declared Rukhmabai dead.
After recording the statement of injured Mahesh, Koradi Police registered a case under Section 279 and 304(A) of the Indian Penal Code against the driver of the Poclain machine. Further investigations are underway.
Road rage: Tipper crushes youth dead in Kapil Nagar
In a road rage incident, a youth was crushed to death under the wheels of a tipper after its driver pushed him down from the vehicle's cabin in Kapil Nagar area. Fearing public violence, the tipper driver sped away.
Identified as Azhar Ali Akbar Ali (26), the deceased was a resident of Lane No 18, Mahendra Nagar, Pachpaoli. Azhar Ali was riding pillion on his friend Mohammad Shoaib Mohammad Sabir's Bajaj Platina motorcycle (MH31/3805) around 7.15 am on Thursday. Mohammad Shoaib (34), a resident of Wanjra Layout, was on way to drop Azhar to his house. At Pili Nadi Chowk, a tipper heading towards the Kamptee direction brushed past their bike.
Mohammad Shoaib intercepted the tipper. Azhar got down from the bike and climbed on to the tipper driver's door and tried to enter his cabin. After a few brief moments of arguments, Azhar got engaged in a fist fight with him. The tipper driver accelerated even as Azhar kept on hanging from the cabin door. The driver then pushed him. Azhar fell down. He came under the rear wheels of the tipper and suffered serious injuries. The tipper driver fled the spot fearing public wrath. Azhar was rushed to Mayo Hospital where he succumbed to his injuries around 7 am on Thursday.
Kapil Nagar Police have registered a case under Sections 279, 304 of IPC against tipper driver.