7th AGM of Vidarbha Taxpayers Association held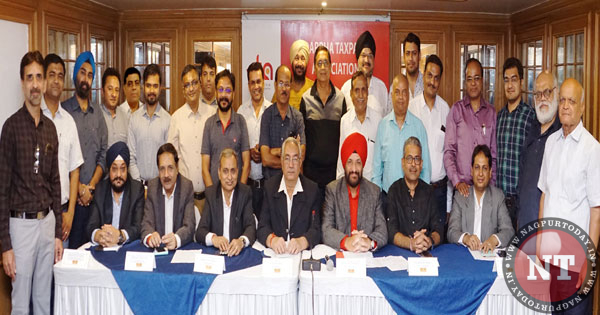 Nagpur: Recently Annual General Meeting (AGM) of Vidarbha Taxpayers Association (VTA) held at Hotel Tuli International; VTA's President J. P. Sharma, Secretary Tejinder Singh Renu, Vice Presidents Shravan Kumar Malu & Ramkishan Ojha, Treasurer Pawan K. Chopra, Joint Secretaries Hemant Trivedi & Amarjeet Singh Chawla shared the dais.
J. P. Sharma in his address to the members said that VTA has been constantly working hard for the rights of the taxpayers, even we strongly carried activity to pursue Finance Minister for requisite changes under GST in reduction of tax rate on many items, further requesting to withdraw complex provisions and simplify the same for easy use of the same. VTA has also requested Government to fix accountability on Govt Departments and Officers so that they are also answerable to the public.
VTA felicitated members Adv. Sanjay K. Agrawal (Secretary-NVCC), Ashwin Agrawal (Vice President-NVCC), Umesh Patel (Joint Secretary), Saqib Parekh (Secretary- Vidarbha Plywood Merchants Association) for they being elected in prestigious posts of various Associations and also felicitated Dipesh Patel to enter of VTA family.
Prominently present in the AGM were Executive Body Member Rajesh Kanoongo, Sanjay K. Agrawal, Adv. Manoj Moryani, Rohit Kanoongo, CA Hemant Sarda, Viru Balani, Rahul Agrawal, Govind Patel, Sharad Sonkule, Rajwantpal Singh Tuli, Members Vicky Osan, Umesh Patel, Surendrakumar Jaiswal, Hemant Sharma, Harmanjeet Singh Baweja, Pankaj Roshan, Sajid Parekh, Narendra Kumar Agrawal, Inderchand Purohit, Shrikant Oke, Dipesh Patel & Yash Trivedi.
AGM proceedings were conducted by Tejinder Singh Renu – secretary and vote of thanks was proposed by Hemant Trivedi – joint secretary.