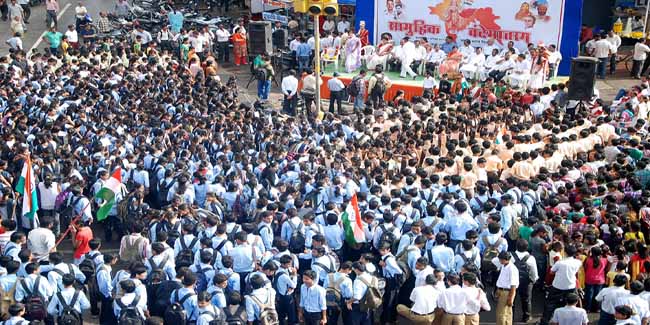 Nagpur News: The fresh breeze of freedom has set the mood of Independence Day celebration in Nagpur. On the eve of the big day, a large number of fellow countrymen aka students and citizens of Nagpur crowded at Sakkardara square and rendered Vande Matram together to instill a feel of patriotism in the air. A total of 7000 people participated in the innovative patriotic event that went on to set new record in the history of Nagpur. The participants were seen clad in vivid attires in all the hues.
A local organization named Akhand Bharat Sankalp Seva Samiti in Nagpur has arranged for the massive programme on Wednesday morning at 8.30 am. The call for attending this one of its kind event in Nagpur received overwhelming response as the organization has appealed to the schools and colleges in south Nagpur to send their children at the do. Students from about 17 schools and colleges have stood united to echo their voices in the jointly sung national song Vande Matram.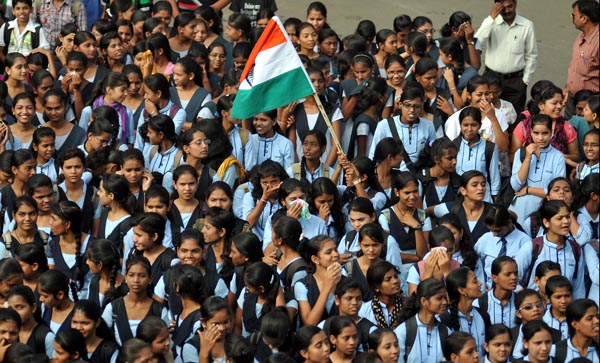 The participating institutions include Pandit Bachhraj Vyas School, Prerna Convent, Sarvashree Vidyalaya, Sanjoba High School, Keshavnagar Shala, Dhirde classes, Gajanan Vidyalaya, Saraswati Shishu Mandir, Lokanchi Shala, Sharda Mahila Mahavidyalaya, Mohta Science college, Binjhani College and others.
The chief guests at the dais include MLA N.G. Ganar, corporator Dr. Chhotu Bhoyar, former Mayor Kalpana Pande, former standing committee chairman Dayashankar Tiwari,  Ravindra Fadnavis, Nita Thakre, Kailash Chute, Swati Akhatkar, Rita Mule, Raju Nagulwar, Mangala Gaure, Raju Masurkar, Sunil Kashikar and corporators across all political parties.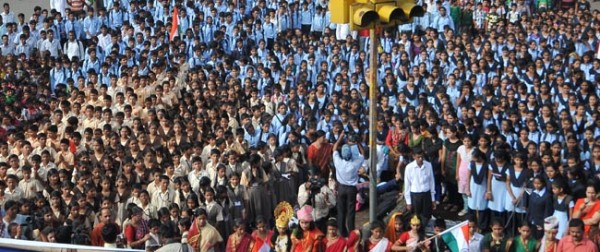 Those worked towards success of the programme include Anil Lambade, Manish Meshram, Mohit Tiwari, Akshay Yerne, Ishwar Dhurade, Nehal Khanorkar, Prashant, Piyush Bhoyar, Vijay Asole, Mangala Maske, Amol Tidke, Anupama Mishra, Sunita Yerne, Varsha Pekde, Chetan Murkute, Pradeep Kadam, Nehal Bihare, Chandan Goswami and others. The programme was convened by Prakash Edbadkar while Divya Ghurde extended the vote of thanks.