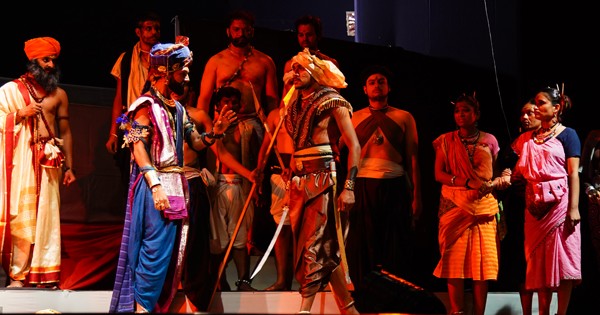 Nagpur city is abuzz with the upcoming shows of 'Maseeha' – a Hindi play that was premiered in July this year and got superb reviews from audiences and the media as well. It is probably for the first time that a play is having back-to-back five shows in two days at one auditorium. Yes, the five shows of 'Maseeha' have been scheduled on 18th and 19th of October 2018 at Dr Vasantrao Deshpande Sabhagruh at Civil Lines in Nagpur.
So what makes 'Maseeha' the most loved and talked-about play in the city?
(1) Selection at IPTA National Platinum Jubilee Festival: 'Maseeha' is among the 18 plays selected from across the country to participate in IPTA's National Platinum Jubilee Festival, to be held from 27th to 31st October 2018 in Patna. The festival will be inaugurated by legendary Bollywood actress Shabana Azmi while well-known actors Prakash Raaj, Sanjay Mishra, Akhilendra Mishra, and others will be the other guests during the five-day event. It's a rare honor for Nagpur artists to get an opportunity to perform in front of so many stalwarts from theatre, music and literature.
(2) Direction: 'Maseeha' has been directed by none other than Rupesh Pawar – the most vibrant theatre director of present times in the region. Rupesh's latest Marathi play 'Aani Shevti Prarthna' won first prize in Maharashtra State Drama Competition and brought the coveted award to Nagpur after 22 years. Rupesh has been on the theatre arena since last over a decade and has staged numerous plays based on stories of Saddat Hasan Manto, Khwaja Ahmed Abbas and other well-known writers. In his direction, 'Maseeha' gives a very unique experience to the audiences.
(3) Script: Praised by audiences as one of the powerful and courageous plays of recent time, 'Maseeha' has been written by Shailesh Narwade. He is a media professional and a filmmaker, who has written and directed Marathi feature film 'Roommates' that was part of NFDC's Film Bazaar in November 2017 held in Goa. He also has two short films and four plays to his credit as writer and director. Shailesh was part of editorial teams of Network18 Group, Reliance Communications Ltd, The Fress Press Journal and The Hitavada.
(4) Costumes: The eye-catching and colorful costumes of almost all the characters give a very distinct look to 'Maseeha', and the credit goes to designer Rutuja Wankhede, who is a fashion designing graduate from Pune. One of her designs was selected for a fashion week magazine in the USA. Rutuja worked extensively to ensure that her costumes create those memorable characters on stage.
(5) People's Verdict: Those, who have watched 'Maseeha' are all praised about the play and its content. People have liked its musical genre and thrilling pace. Those, who watched its premiere, recommended the play to be watched by everybody at least once.
Watch people's verdict on 'Maseeha' here:
Nagpurians shall not miss this highly-recommended Hindi play this time when it is staged on 18th and 19th of October at Dr Vasantrao Deshpande Sabhagruh.
You can book your tickets on BookMyShow