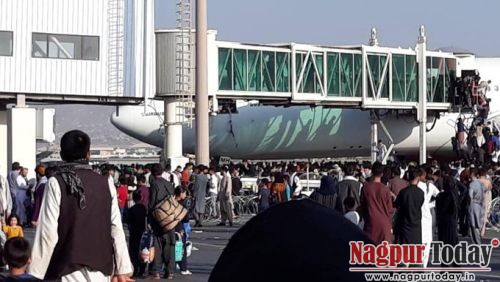 At least 5 people were killed in Kabul airport as hundreds of people tried to forcibly enter planes leaving Kabul, say reports. Desperate citizens scale airport walls to escape. Several injuries reported.
With Kabul falling into the hands of the Taliban, the UN Security Council under India's current Presidency will hold an emergency meeting on the situation in Afghanistan on Monday, the second time in just over a week.
Kabul: people who tied themselves to the plane wheels – fell off the plane pic.twitter.com/Lm5YDbizlw

— Amichai Stein (@AmichaiStein1) August 16, 2021
The longstanding war in Afghanistan reached a watershed moment on Sunday when the Taliban insurgents closed in on Afghanistan's capital Kabul and entered the city and took over the presidential palace, forcing embattled President Ashraf Ghani to join fellow citizens and foreigners to leave the country.
Here in this video you see some of the Afghan youth hanging on the American airplane's engines before take off in the Kabul airport.
pic.twitter.com/IMFwbs3vcX

— Frank (@FrankFarman) August 16, 2021