Nagpur News: As the 48 hour Bank strike call given by United Forum of Bank Unions on 20th & 21st January 2014 is nearing, the Unions have intensified their protest demanding early conclusion of 10th Bipartite wage revision and to stop Banking Reforms.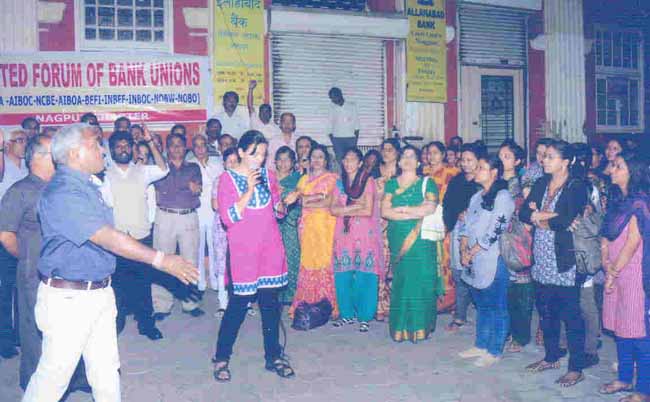 In a press release issued by Eastern Maharashtra Bank Employees' Association (AIBEA), Com. B N J Sharma, General Secretary of EMBEA informed that in today's (13.01.2014) conciliation meeting held before Chief Labour Commissioner (Central) at New Delhi, the CLC advised the Indian Bank's Association to call the Unions for negotiations immediately and conduct meetings fortnightly on regular basis to finalise wage revision at the earliest. The IBA offered to hold talks on 17th January 2014. UFBU said that it would attend the meeting with open mind and further decision if any on the strike action depends upon the outcome of the meeting. Hence there should be no let up in the preparations of the strike call, Com. B N J Sharma said.
Earlier on 10.01.2014, massive demonstrations by more than 1000 officers and employees of all Banks were held in front of Allahabad Bank, Regional Office, Civil lines, Nagpur. The protest was held under the leadership of Com. Ramkumar Gupta & Com. Pradip Yelne, Joint Convenors of UFBU Nagpur Chapter. Com. Jaiwant Gurway, Deputy General Secretary, EMBEA, Com. Milind Wasnik, Organising Secretary, EMBEA Com. Chandil Iyer and Surabhi Sharma shouted slogans against the negative and anti-employee attitude of the Government/IBA combine. Com. B N J Sharma, General Secretary EMBEA called upon the gathering to further intensify the agitation and prepare for the next round of Centralised Demonstration on 17th January, 2014.
Leaders of all the nine Unions, D S Mishra and Anant Kulkarni of AIBOC, Com. P S Kohle of AIBOA, V V Asai and L P Nandanwar of (BEFI) Sudhir Kudupley, J. Radha Krishnan, Vijay Thakur S P Tiwari, P G Meshram, Sunil Pathak, Arvind Kurhadkar, Ashok Atkare, Srinivas Kewadkar, Ravi Joshi, Vandana Majumdar of AIBEA, Manohar Agasti, Vazir Meshram Shirish Rajkarne and Shyam Gulgulwar of NCBE and others were prominently present in the demonstrations.
Active cadres of EMBEA Suresh Wasnik, Anand Sarodaya,Arun Raut, Vilas Shekokar, Kiran Hege, Jabesh Kisku, Geeta Dutta, Girija Murthy, Swati Rangari, Shanti Badra, Meera K. L. Anuja Bele, Preeti Sonule, Anuradha Patil, Meera Pillai, Sushma Badere, Babita Bangale, Swati Sapate, Jyothsna Khobragade, Chandrakant Aniwal, Rakesh Bangale, Narendra Bhujade, Srikant Yete, Chandrashekar Nilkute, Ramesh Hedaoo, Arvind Bansod, Raja Patnaik, Lalit Upase, Kishor Kodmalwar, Pankaj Gajbhiye, Rakesh Mahule, Praveen Sahare, Anand Ambasta, Manish Ambatkar, Hansraj Wagde, Ravindra Waghmare, Ramakrishna Roy, Sriram Nimje, V. Bhaskar Rao, and others worked hard for the success of the protest demonstrations.
Com. Vijay Thakur, General Secretary of Allahabd Bank Employees' Association and Deputy General Secretary EMBEA made elaborate arranements for the conduct of the programme.