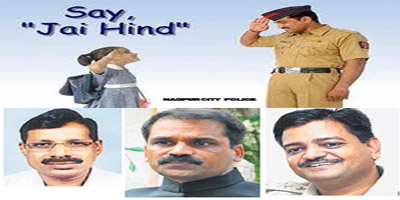 Nagpur News : Director of South Central Cultural Centre Dr Ravindra Kumar Singal, deputy commissioner of police Sunil Kolhe and inspector of anti Naxal squad Mahesh Sawai, have been chosen for the President's Police Medal for distinguished service. Apart from three senior police officials, as many as 40 police personnel would also be given awards for their work.
IPS officer Dr Singal has obtained a degree in Human Rights after completing his engineering. He also completed a diploma in journalism. He got his first posting in Sangli as assistant SP. Dr Singal has held a number of important and challenging posts in his career.
In 2005 and 2006, he served as the deputy chief of the war crimes unit of Kosovo Peace Corps. He was also feted for service by the United Nations. Dr Singal also served in Nagpur for a long time.
Sunil Kolhe joined the police force in 1992. His first posting was in Naxal-affected Gadchiroli where he was stationed for three years. After this, he served for five years in Pandharpur and Baramati. He then served for a year in th Kosovo Peace Corps. He later held the post of deputy SP in Usmanabad and Sangli and was later promoted to SP in Dhule.
Sunil Kolhe, deputy commissioner of police, economic offence wing, too gets medal for meritorious service.
Pradeep Gupta, chief vigilance officer, MOIL, is also among the award winners.
Similarly Mahesh Sawai of the Anti Naxal Squad joined the police force in 1985 as a sub inspector.