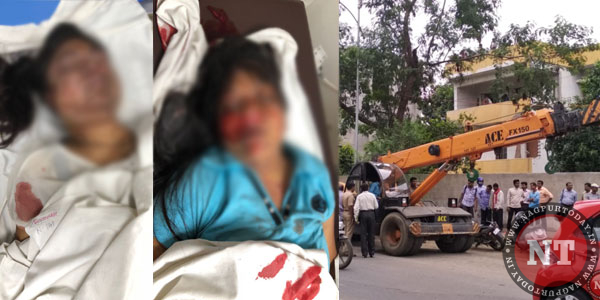 Nagpur: Three students of LAD college reportedly met the tragic end on Tuesday morning when the scooter (MH-49 AZ 1502) on which they were riding hit a crane engaged in Metro rail works on the road near Ambazari T-point police station in Bajaj Nagar. They were immediately rushed to the nearby Wockhardt hospital where two of them were declared dead while other succumbed to injuries while undergoing treatment. The deceased has been identified as Ruchika Vijay Borikar, 18, resident of Tandapeth, Nagpur; Vismriti Rajesh Banwari, 18, resident of Ambazari Tekdi, and Sneha Vijay Ambadkar, 18, resident of Hilltop Ambazari. The girls were reportedly in college uniform. It was still unclear as to where they were going.
Video : CCTV shows how 3 girls met tragic end on Ambazari road
Sources said that the crane driver was allegedly reversing the vehicle and suddenly turned up on the road before the girls could slow down their scooter. Sources said that as the girls spotted the crane they lost control over the vehicle and rammed into the giant machine. Police have arrested crane driver after the accident.
Such was the impact of the collision that two of the girls died on the spot, while Ruchika Borikar succumbed to injuries at Wockhardt hospital. Ruchika was reportedly an orphan who was adopted by a family.
Meanwhile, the bodies of all the three were sent to medical for postmortem. Bajaj Nagar police is further investigating the case.
Sources said that when the hydra crane was being reversed there was no volunteer on the spot, who has to be compulsorily in place while navigating such heavy vehicles towards road.
Meanwhile, Metro Rail PRO Kokate – Administrative has assured that they were looking into the matter and would investigate the CCTV installed at the spot. He added that if lapses will be found on the part of driver, strict action would be taken against afcons infrastructure – the company engaged in Metro works.
"We have taken swift action previously too and would do it this time also", he said.