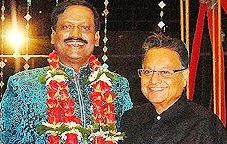 Media in the country is buzzing with news that connects Sriprakash Jayaswal to the internal operations of the Jayaswal Family.
"In case there was any dispute regarding the allotment of shares, it was to be decided by "Shri Prakash Jaiswal of Kanpur" (read coal minister Shriprakash Jaiswal)," the agreement between the Jayaswal brothers and their father reads.
AMR is owned by Manoj Jayaswal and his brother, Arvind Jayaswal.
The above mentioned companies have been named in the FIR filed by the CBI in the Coalgate scam. The Jayaswal business family owns several companies in the area of power, roads, steel, iron ore and mining. Abhijeet Group has significant presence in core sector areas like Power, Roads, Mining, Ferroalloys, Steel and Cement and is headquartered in Nagpur, Maharashtra.
As per the agreement, it was decided to give at least 26 per cent free equity shares to anyone who was instrumental in getting coal blocks allotted to the family companies.
It was decided that 26 per cent shares in AMR, which got a coal block in Maharashtra in 2009, will be transferred to the Lokmat group. As per the documents, the Lokmat Group played an instrumental role in getting the family its coal blocks. Congress Rajya Sabha MP, Vijay Darda, is the chairman of the Lokmat group. Darda has also been named in the CBI FIR filed on Tuesday. He, however, has denied the charge.
Later, after a business disagreement within the family, Manoj Jayaswal wrote a letter to his father, Basant Lal Shaw, about matters pertaining to the settlement. The letter also mentions the name of "Shri Prakash Jayaswal" and Lokmat Group.
The Manoj Jayaswal letter reads, "As per the understanding, 26 per cent of the shares of AMR are to be allocated free of cost to the Lokmat group. The rights of the balance 14 per cent needs to be decided by Shri Shriprakashji… AMR has been allotted coal blocks because of efforts of Lokmat Group. The commitment should be honoured." Here "Shri Shriprakashji" refers to the minister who has already been named in the agreement once and in other documents pertaining to the deal.
The letter further read, "26 per cent equity be immediately allotted to Lokmat and a nominee of Lokmat should be appointed chairman and the director, or matters relating to the family would be jeopardised. Further, I urge that a suitable time be communicated to Shri Sriprakashji for settlements of ownership of 14 per cent shares of AMR."
Since 2005, various companies related to Manoj Jayaswal have been coal mines in various parts of the country. This includes Abhijeet Infrastructure, which got 3 coal blocks in Jharkhand in 2005, and, JLD Yavatmal, which got one block in 2008 in Chhattisgarh.
Article Courtesy