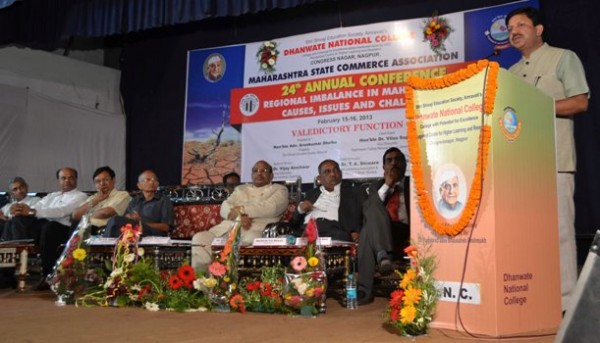 Nagpur News:
Consider Students as Assets :Vice chancellor Dr Vijay Ainchwar 
Speaking in the Valedictory function of  the 24th Annual Conference of  'Maharashtra State Commerce Association' on the Theme 'Regional imbalance  in Maharashtra' held at Dhanwate National College, Vice Chancellor of Gondwana University ,Gadchiroli, Dr Vijay Ainchwar  said " Introspection is needed.  Collectors and District administrators should also become part of the study on the Paper presentation on the 'Causes, Issues, and Challeges: Regional imbalance in Maharashtra. Such workshops are very beneficial."
Dr. Baban Taywade, said that "70 Reasearch Papers were presented during the session and it will be sent to Kelkar committee. The research papers would highlight and identify the causes , issues and challenges of  imbalanced regional development with expectation of providing some feasible solutions."
Dr .J.M.Jacob, SNDT, college, Mumbai said "the conference was an excellent academic feast and an excellent team work. It encourages to focus on more such research activities. Also it gave an opportunity to study various important factors."
During the Programme  the Teachers who recieved their Ph.D were felicitated by Dr Vijay Ainchwar. The Best teacher award was also announced and given to Dr Annasaheb.m Gurup ofShivajiUniversity,Kolhapur.
The Programme was presided by Adv.Arun kumar shelke. Guest of honour were Dr T.A.Shiware and Dr. Vijay kumar.
Dr Baban Taywade was the organizing secretary. Those prominently present during the programme were Dr Bharat Meghe, Dr.Anant Deshmukh, Dr. Balvinder Singh Saini, Dr.Shivhare ,Dr Anil Bhavsar and Dr Madhu Nair.
Dr Sangeeta Jeevankar and Muktai Chavan conducted the proceedings of the programme.
While Dr P.S Changole proposed a vote of thanks.