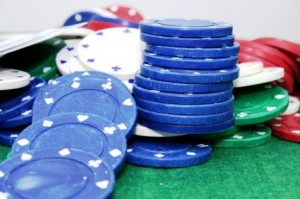 Nagpur News: Sitabuldi police busted a gambling den in Anantnagar on Thursday night, catching a group of gamblers in the act. Twenty four people have been arrested.
According to sources, the gambling den had been on the radar of Sitabuldi police for quite some time, but had not shut down despite earlier warnings. The owner of the den is alleged to have close links with the city police, as well as with local politicians. Thursday's raid was finally undertaken due to direct orders from the Deputy Commissioner of Police (DCP) and Additional Commissioner of Police.
The arrested have been identified as Dharampal Ramaji Bodade (46), Rajmohan Manikla Agrawal (22), Vishnu Shankarlal Gaur (50), Atul Shankarlalji Rai (42), Kishore alias Munna Sunder Rai (52), Narsingh Sevakram Vasvani (48), Raju Ratanlal Jain (47), Gopal Sukhchain Verma (50), Ganesh Mahadev Bhagat (36), Raju Ramavtar Pal (39), Bunty Sheshraoji Ninave (28), Satish Shamrao Aswale (42), Sanjay Ramdas Gupta (36), Arun Yashwant Bhanuse (49), Sanjay Pandurang Purohit (43), Manoj Gyanchand Jain (47), Ganesh Sampatrao Pisal (47), Shamkumar Manohar Porwal (52), Vinod Ramdasji Bhongade (38), Sitaram Gajanan Motghare (48), Prashant Damodar Patil (48), Vilas namdeo Sahare (49), Anil Govardhan Sakharkar (55) and Haridas Kishanji Sambarkar (51).