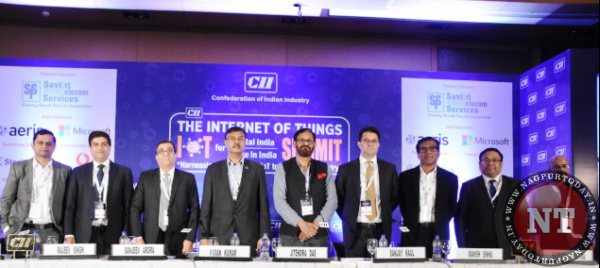 Nagpur: Digital Technology is slowly being recognized as an important enabler for innovations and exponential growth. The Government believes in the tremendous opportunities that the IoT presents, and is planning a close synergy between the Digital India programme and the IoT, and has already drafted it into policy. The IoT will be part of the broadband highway that will deliver a wide range of e-governance and citizen services to all corners of the country and Industrial IoT (IIoT) as an enabler of 'Manufacturing 4.0' | 'Make in India' initiatives and is the next wave of innovation impacting the way the world connects and optimizes machines. The Industrial Internet of Things is connecting the physical world of sensors, devices and machines with the internet and by, applying deep analytics through software are turning massive data into powerful insights and intelligence.
Dr. Jitendra K. Das, Director, FORE School of Management, New Delhi, who was the session moderator for the session "Industrial IoT – Factory of the Future" in this summit set up the tone of the discussion that followed. Dr. Das said that the term IIoT essentially promises the operational efficiencies through connectivity of multiple machines and the analytical exchanges and communication between them. IIoT is seen as the 'Industry 4.0' – the coming of a new industrial revolution.
The Industrial Internet of Things (IIoT) is the use of Internet of Things (IoT) technologies in manufacturing. Also known as the Industrial Internet, IIoT incorporates machine learning and big data technology, harnessing the sensor data, machine-to-machine (M2M) communication and automation technologies that have existed in industrial settings for years.
Dr. Das was accompanied by the prominent power packed co-panelists:
Sanjay Kaul, Managing Director, India & SAARC, Cisco Systems
Pavan Kumar, Vice President – South Asia & Managing Director, Altair
Manish Sinha, Chief Marketing Officer, Sterlite Technologies Ltd
Vadiraj S Katti, Managing Director, iTriangle Infotech Pvt Ltd
Sanjeev Arora, Executive Vice President, JCB India
Rajeev Singh, Partner, Deloitte India
Amol Mate, Vice President – Industrial Business, Altizon
Subrata K Mitra, Director- Public & Government Affairs, Huawei Telecommunications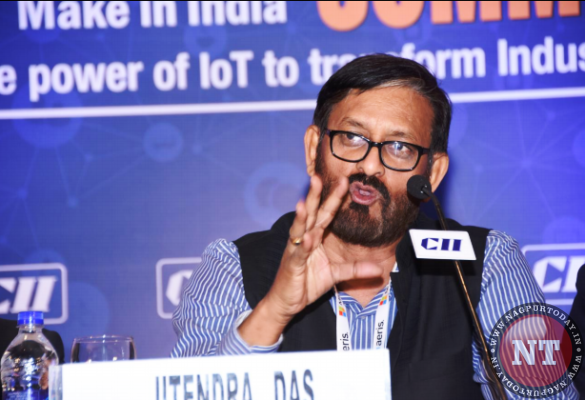 The eminent dignitaries who were also present and associated with the summit are Dr Rishi Bhatnagar, Summit Chairman & President, Aeris Communications India, Neeraj Arora, Partner, Deloitte India, Vinod Sood, Managing Director, Hughes Systique, P Balaji, Director – Regulatory, External Affairs & CSR, Vodafone India Ltd, Umang Das, Chairman, CII National Sub-committee on Telecom Infrastructure, S V R Srinivas, Principal Secretary (IT), Government of Maharashtra, Smt Aruna Sundararajan, Chairman, Telecom Commission & Secretary, Department of Telecommunications, Ministry of Communications, Govt of India, Ms Fatima Mahdi Karan, Consulting Editor, BTVI, Ravi Shankar Rai, Managing Director, Savitri Group, Ali Hosseini, Chief Executive Officer, SenRa, Ms Sapna Ahuja, Chief Operating Officer, MapmyIndia, Anirban Chaudhury, Senior Director – Consulting, BRIDGEi2i Analytics Solutions, Anil Talreja, Partner, Deloitte Haskin & Sells LLP, Neeraj Arora, Partner, Deloitte India, Juergen Hase, Chief Executive Officer, Unlimit A Reliance Group Company, Shailendra Miglani, Technology Solution Professional – Global Black Belt, Microsoft, Amit Sinha Roy, Vice President – Strategy & Marketing, Tata Communications Ltd, Sandeep Bhargava, Executive Vice President– Corporate Affairs & Public Policy, Vodafone India Limited, Dr Gulshan Rai, National Cyber Security Coordinator, Prime Minister's Office, Government of India, Shree Parthasarathy, Partner & National Leader, Deloitte Touche Tohmatsu India LLP, Pavan Duggal, Founder & Chairman, International Commission on Cyber Security Law, Anand Ramamoorthy, Managing Director, South Asia, McAfee, Amajit Gupta, Managing Director & CEO, QED Sigma Innovations and Ritesh Chopra, Country Manager, Consumer Business Unit, Symantec.