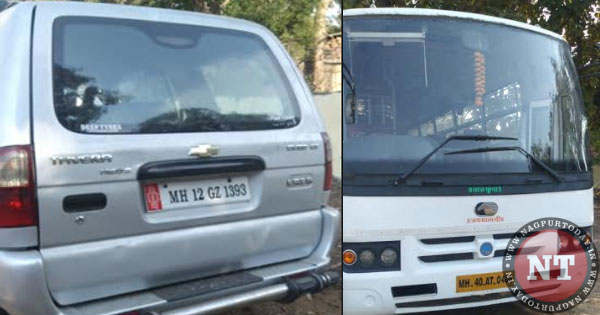 Nagpur: In a ghastly road accident, at least two persons were killed and seven others were injured, some of them seriously, when a bus of Western Coalfields Ltd (WCL) and a Toyota Qualis car collided head-on near Dahegaon (Rangari) village in Saoner Tehsil of Nagpur district on early Friday morning.
According preliminary reports, the WCL bus was proceeding to Nagpur from Saoner. Around 6.30 am, the bus and the Toyota Qualis car, probable going in the opposite directed, collided head-on with forceful impact. Sources informed that at two persons died on the spot while seven others were injured. The injured were rushed to Nagpur's Mayo Hospital. Condition of some injured persons is reportedly critical.
The two deceased have been identified as Mohd Rafiq Mohd Shafiq Ansari (18) and Shaikh Noor Mohd Shaikh Rahim (18). Both are residents of Yashodhara Nagar, Nagpur. The seven injured are Irfan Habibulla Ansari (15), Riyaz Sallauddin Ansari (15), Yauddin Sallauddin Ansari (18), Raees Saeed Ansari (20), Shammim Akhatar Shafiq Ahmad (22), Sohail Ansari (17) and Aasif Ajiz Shaikh (24) of Yashodhara Nagar.
Details are awaited.