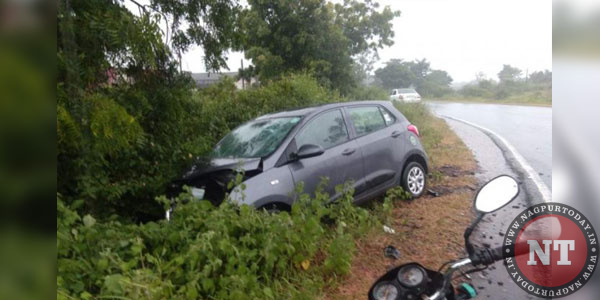 Nagpur : Less than 24 hours after an accident claimed eight lives near Varoda Shivar in Nagpur on Thursday, another accident between a truck and a four-wheeler took place near the same place seriously injuring two persons on Friday afternoon. The accident occurred at around 2 pm.
As per information, a car (MH31-FA7851) going from Kalmeshwar to Saoner was hit by a truck (UP94-T4657) near the poultry farm at Varoda Shivar. The car driver lost control on the vehicle and the car dashed against a tree. The car driver and one more person were seriously injured in the accident.
The injured were admitted to a private hospital at Saoner. The injured were identified as Sandeep Jovhari (35), Dolly Sandeep Jovhari (30) and their one-year-old son, all residents of Gorewada. Police have registered a case and started further investigations.