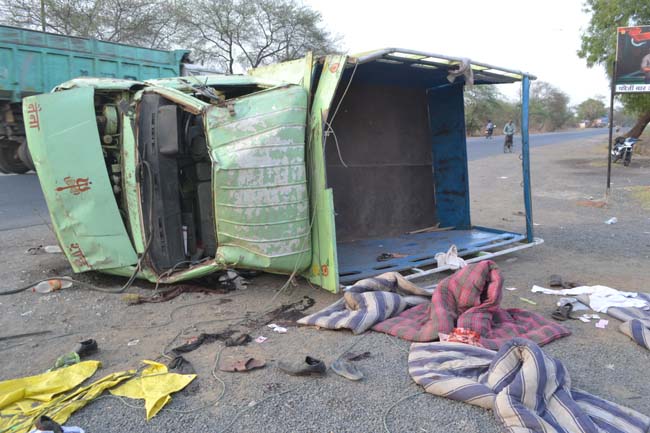 Nagpur News: In a tragic road mishap, left two people dead and 17 injured after a mini-truck carrying a marriage party turned turtle near Faoji restaurant on  Sunday. Out of the those injured, two are reportedly battling for life at the Mayo hospital here.
According to sources Rakesh Mohan Chavre was to get married at Balaghat on Sunday evening. The marriage party left for Balaghat for Nagpur in a mini-truck barring registration number MH/31/CQ-5023.
Eyewitnesses said the driver of the vehicle lost control of the truck. As a result of this the truck turned over with the entire marriage party on board. The deceased have been identified as Dharmendra Meshram, 45, a resident of Ramai Nagar, Nagpur and Monu Khan, 18, also from the same area.
It has also been learnt that the truck had been travelling at breakneck speed when the incident took place. The speed of the truck can be surmised by the condition of the truck. Celebration of the marriage party turned into grief within no time.
People standing in the area and passers by ran to aid the injured. Cries of help could be heard as a few people had even got stuck under the vehicle. People soon informed the police.
The police with the help of other rushed the injured to Mayo hospital. The deceased youth was the youngest of three brothers and used to work as a plaster of paris artist. Driver of the vehicle Ahmed Sheikh, a resident of Surendra Nagar has also sustained serious injuries in the accident. The injured include a number of children as well.