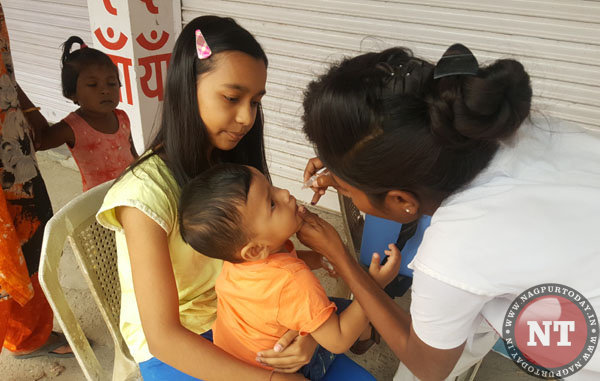 Nagpur: Around 19.89 lakh children in the age group of 0-5 were administered polio dose in the Second Phase of National Pulse Polio Immunisation drive on Sunday, March 11. The First Phase of the drive was undertaken on January 28.
The Second Phase pulse polio drive was launched at Mahal-based Late Prabhakar Datke Memorial Diagnostic Centre at the hands of Dr Shashikant Jadhav, Director General of Maharashtra State Health Services. Dr Jadhav administered the polio dose to children to mark launch of Second Phase of Pulse Polio drive. Present on the occasion include Nagpur Region Deputy Director Dr Sanjiv Jaiswal, NMC Health Officer Dr Anil Chivhane, Medical Officers Dr Vijay Joshi, Sunil Ghurde, Vijay Tiwari, Narendra Bahirwar and others.
The Nagpur Municipal Corporation (NMC) had made elaborate arrangements for the pulse polio drive. The civic body deployed 10 Zonal Medical Officers and 10 Health Inspectors for the second phase (March 11) by organizing PPI on the days of the drive and visiting house to house (IPPI). Care was taken to vaccinate each and every child during the drive. Kids from 0 to 5 years were vaccinated.
The Seconf Phase of Pulse Polio Immunisation drive was conducted under the direct supervision of Municipal Commissioner Ashwin Mudgal, Additional Commissioner Ravindra Kumbhare, and Health Officer Dr Anil Chivhane. The Pulse Polio Driver officers Dr Vijay Joshi, Sunil Ghurde, Vijay Tiwari monitored the drive.