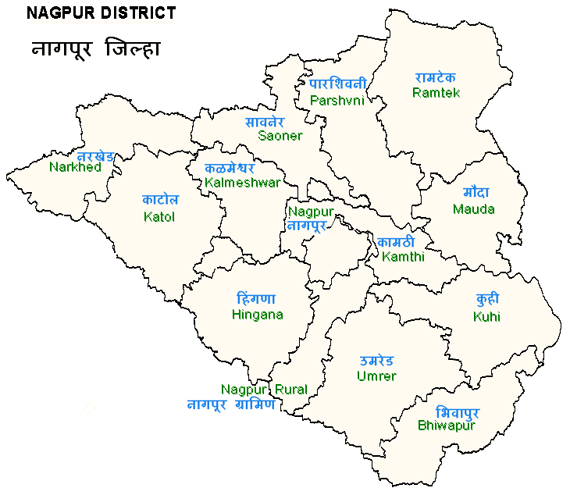 Nagpur is the winter capital of the state ofMaharashtra, the largest city in central India and third largest city in Maharashtra after Mumbai and Pune. With a population of 2,405,421 (2011) Nagpur Metropolitan Area is the 13th largest urban conglomeration in India. It is also famous throughout the country as "Orange City" for being a major trade center of oranges that are cultivated in the region.In addition, the city also derives political importance from being the headquarters for the Hindu nationalist organization RSS and an important location for the Dalit Buddhist movement.
Nagpur is also declared, "Tiger Capital of India" as it connects many Tiger Reserves in India to the world.
The Nag River, a tributary of the Kanhan River, flows in a serpentine path and is therefore named "Nag", the Marathi word for snake. And hence, the river and city is named as Nagpur. Human existence around present day Nagpur city can be traced back 3000 years to 8th century BC
Nagpur is an emerging Metropolis of India and the fastest growing crorepati city also. Nagpur has been the main center of commerce in the Vidarbha region since early days and is an important trading location.
Places to Visit
Maharajbagh zoo is the central zoo of Nagpur, India. The zoo is located in the heart of the city and has been built on the garden of the Bhonsle and Maratha rulers of the city, which comprises of some rare species of birds and animals.
Sitabuldi Fort.
The Sitabuldi fort is one of the most important tourist landmarks of Nagpur. Located on top of a hill, right in the center of the city, this fort was built by a British officer in the year 1857 during the Indian Mutiny. The fort now houses the office of the Territorial Army, and is open to the public on National holidays.
Zero Mile
Nagpur lies precisely at the center of the country with the Zero Mile Marker indicating the geographical center of India.

Balaji Temple.
Situated in the serene and picturesque surroundings of the seminary hills, the Balaji temple attracts thousands of devotees through out the year.
Dragon Palace Temple.
The Dragon Palace Temple is a Buddhist temple, situated in Kamptee, Nagpur. Dedicated to Lord Buddha, the temple is an exemplary peace of architecture and picturesque landscape, which was founded by Mother Noriko Ogawa Society of Japan.
Ambazari Lake:
The Ambazari Lake is a tranquil lake, surrounded by a beautifully landscaped garden that adds to its splendor . The musical fountain, various electric rides and amusement games make this garden an ideal place to travel and children to enjoy. The garden also offers boating facilities and good walking trails as an enjoying outdoor activity.

Seminary Hills.
Seminary Hill is a small hillock.. Named after the Seminary of St. Charles this hillock gives a captivating panoramic view of the city. There are a few children