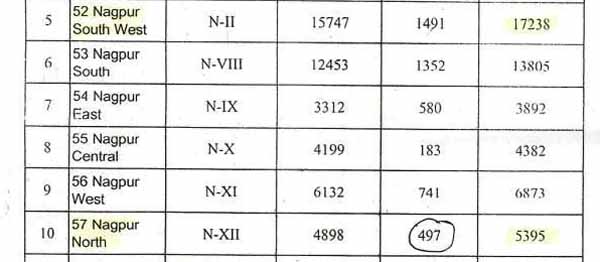 Nagpur News : Shahu Phule Padvidhar Sanghatana lamented Election Council and has demanded explanation over missing forms submitted for Graduates' Constituency in the month of October, November and December last year. The Sanghatana has expressed its concern and suspicion over the missing forms.
Shahu Phule Padvidhar Sanghatana, in press release informed that the registration drive for Graduate's Constituency for Nagpur Division started on October 1 and concluded on October 30. With persuasion and intervention of Shahu Phule Padwidhar Sanghatana, the date was extended till November 16. Later the Election Officer through an official letter issued on December 23, directed the council members to accept the registration forms submitted between November 16, 2013 and January 9, 2014. However, he refrained the members to register the forms and asked them to verify the forms and start the registration only after January 10.
The press release further stated that Chief Election Officer had issued directives to declare the list of registered members on February 1. Thus, registrations will be done till January 31. The Sanghatana has gathered details about Form 18 submitted for the registration. According to statistics, 52 Nagpur South West zone, 17238 forms were submitted  while 57 Nagpur North has collected 5395 forms.
However, the sanghatana alleges that more than 20,000 form No. 18 were collected after initiative of the Sanghatana in the last week of October, and later in November and December. But the official data shows registration of mere 5395 forms. The Sanghatana President Kishor Gajbhiye stated in the release that details of around 1500 were missing from the official files and no officer was able to clear the air in this case. The Sanghatana members enquired with Collector's office but the officers concerned informed that all the forms submitted were forwarded to Municipal Commissioner's officer for verification. However, officers at Municipal Corporation have confirmed that no form was held back with the office and only 5395 forms were submitted. Thus, remaining 1,500 forms are in question and none of the offices has any clue about those forms.
Gajbhiye, in the press release, has said that it was the responsibility of collector and Municipal Commissioner to maintain the transparency in the registration of these forms and has demanded an enquiry about the 1,500 missing forms.